Conley and Joseph set sail for Birmingham panto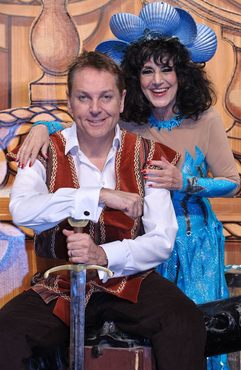 Brian Conley and Lesley Joseph will sail into Birmingham Hippodrome this Christmas for "Britain's biggest pantomime".
Conley, who played Buttons in Cinderella at the Hippodrome last year, will take the lead in Robinson Crusoe and the Caribbean Pirates. It will be his sixth panto at the venue.
Lesley Joseph, fondly remembered as Dorien in the BBC sitcom Birds of a Feather, will play The Enchantress of the Ocean. She last appeared at the Hippodrome in the 1993-94 production of Dick Whittington.
Hippodrome chief executive Stuart Griffiths said, "We're thrilled to welcome back Brian Conley who's one of the UK's most popular pantomime performers.
"We particularly look forward to welcoming Lesley Joseph in what will no doubt be another spectacular and memorable show."
Solihull-born Kathryn Rooney, who was Cinderella last year, will play Polly and Andrew Ryan will be Mrs Crusoe.
Robinson Crusoe and the Caribbean Pirates runs at Birmingham Hippodrome from Saturday, 15 December until Sunday, 27 January.