Mousetrap in Manchester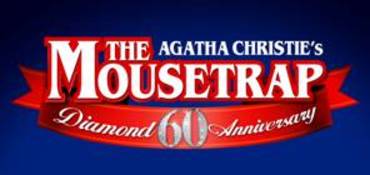 Agatha Christie's The Mousetrap comes to the Opera House in Manchester in October.
The cast will include Steven France (Eastenders, The Bill) as Christopher Wren, Thomas Howes (Downton Abbey, The History Boys National Theatre UK Tour) as Sgt Trotter, Karl Howman (Brush Strokes) as Mr Paravicini, Bruno Langley (Coronation Street, Doctor Who) as Giles Ralston, Graham Seed (Yes, Prime Minister UK Tour, BBC Radio 4's The Archers) as Major Metcalf and Jemma Walker (Family Affairs, Eastenders) as Mollie Ralston. Jan Waters will reprise her West End role as Mrs Boyle and Clare Wilkie (Eastenders) will play Miss Casewell.
Mousetrap Productions has licenced 60 productions of The Mousetrap worldwide to mark the 60th year.
During this period the world's longest running show will be seen in every continent.
It's now in its 60th year in London's West End, where it continues at St Martin's Lane Theatre, and on November 18 will celebrate the actual 60th Birthday with a gala in aid of Mousetrap Theatre Projects—a leading theatre education charity that gives disadvantaged youngsters access to the best of London theatre.
Details: www.atgtickets/manchester