News from the Midlands
New Vic asks Alfie what it's all about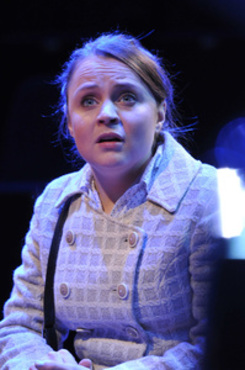 Former Coronation Street actress Vicky Binns is heading for Newcastle-under-Lyme as the New Vic stages Bill Naughton's classic Alfie.
Starting life as a radio play, Alfie came to prominence when Michael Caine played the lead character in a 1960s film. It received five Oscar nominations and was listed in Total Film magazine's top 50 greatest British films. Jude Law played Alfie when the film was remade in 2004.
A cast of eight will appear in the play, set in the swinging '60s, at the north Staffordshire theatre-in-the-round.
Vicky Binns bowed out of the soap in December 2010 after playing Molly Dobbs for more than four years.
She plays both Annie, the naive and vulnerable young girl who falls for Alfie, and nurse Carla.
She says, "It's really interesting, exciting and engaging as a play but it goes very dark, much darker than I ever realised."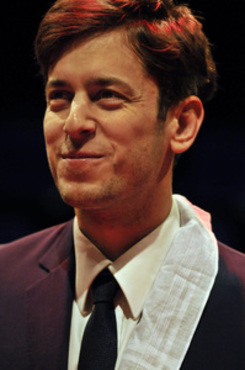 Taking on the role of the unrepentant ladies' man is David Ricardo-Pearce. He says, "It's quite a complex story of quite a hurt man.
"It's a brilliantly written play—a lot of people think of it as being about a man who has lots of different women but it's a much better play than that; it's a very good story of a man who finds it difficult to commit."
The show is a co-production between the New Vic, Bolton's Octagon Theatre, the Oldham Coliseum Theatre and Scarborough's Stephen Joseph Theatre.
Director David Thacker describes working with the New Vic as a "great honour".
He says, "Rehearsing the play has made me more and more impressed with Naughton and the quality of his writing.
"It's revealed itself to be a far richer play than any of us thought it would be."
Alfie runs at the New Vic from Wednesday (22 February) until Saturday, 17 March.
Science play gets Birmingham premiere before UK tour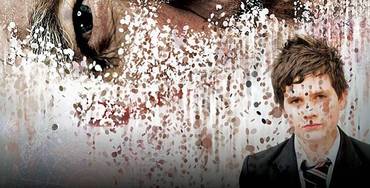 Wolverhampton playwright Arzhang Pezhman's new play Gravity receives its world premiere at mac, Birmingham this week before a national tour as part of Birmingham REP's off-site season.
Inspired by Pezhman's experience as a science teacher in a tough secondary school, Gravity explores issues around science, classroom discipline, the pressures on teachers and their relationship with pupils.
The play features a teacher called David who's keen to keep up with the latest advances in science and is desperate for his students to share his enthusiasm.
Only one boy, Kyle, shares David's thirst for knowledge. However, when classmates pick on Kyle, David's good work starts to unravel. Their disruptive behaviour is a catalyst for colliding personalities, resulting in an explosive reaction.
Arzhang Pezhman's previous plays include The Bolt Hole which premiered at the REP in 2006, and Local and Come Around for the Royal Court Theatre.
He was writer-in-residence at the Soho Theatre in 2006 and works extensively as a dramaturg and writing tutor.
The cast of five will be led by Nigel Hastings as David. He recently appeared as The Colonel in the Tony Award-winning West End production and UK tour of Journey's End.
Recent graduate Ashley Hunter plays Kyle; Rebecca Loudon who performed at the REP in 2010 in Respect is Chantay; Boris Mitkov plays Reece; and Imogen Slaughter is Kathy.
Director Rae McKen's previous productions include Respect at The REP and Stamping, Shouting and Singing Home at mac, Birmingham and on a national tour.
She's the artistic director of Custom/Practice for whom she's directed Macbeth and Romeo And Juliet. She's also worked as an assistant director at the Royal Shakespeare Company, the Young Vic and the Royal Court Theatre.
The production will be designed by Fabrice Serafino with lighting by Simon Bond, and composition and sound design by Edward Lewis.
Gravity runs at mac from Thursday (23 February) until Saturday, 3 March. It then goes on a UK tour and stops off at the Arena Theatre, Wolverhampton on 22 March. It will also play in schools across the West Midlands.
Irvine hits right note to become Northampton resident composer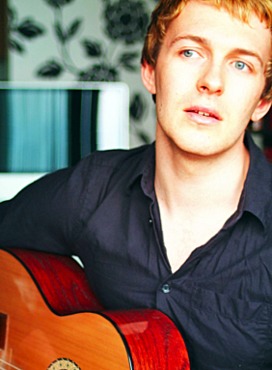 Northampton's Royal and Derngate is to take on a resident composer, Dougal Irvine, for six months as part of a new national scheme.
Irvine, who'll take up the post later this month, trained in playwriting at the Royal Court.
His first musical, Departure Lounge, won the MTM (Musical Theatre Matters) award for best music for a new musical at the Edinburgh Festival Fringe. He was also lyricist for Britain's Got Bhangra.
The residency is part of the Cameron Mackintosh Resident Composer Scheme, supported by the Mackintosh Foundation which is placing composers in five producing theatres around the country.
Irvine will write theatre scores for The Bacchae and Blood Wedding, two of the three productions in Royal and Derngate's Festival of Chaos which is being staged in Northampton as part of the London 2012 Festival to celebrate the Olympics.
Royal and Derngate artistic director Laurie Sansom commented, "The outstanding quality of the applicants meant we had to put them through an arduous selection process.
"Ultimately Dougal's versatility, unique voice and excellent dramatic instincts made him the perfect choice to work with us.
"The scheme's also introduced me to some other exceptional composers I hope to be able to work with in the future."
Recognition for Coventry plays inspired by Olympics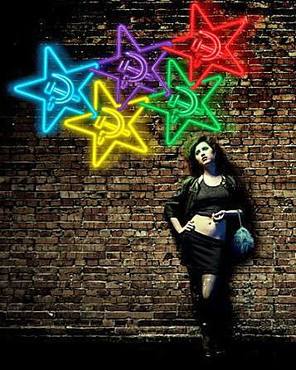 The London 2012 Inspire programme has granted two Coventry Belgrade productions the Inspire mark - which recognises "innovative and exceptional projects" that are directly inspired by the 2012 Olympic and Paralympic Games.
Stars in the Morning Sky is Chris Hannan's new adaptation of Alexander Galin's Moscow 1980 Olympics drama. It tells the story of a group of potential troublemakers and undesirable characters who find themselves banned from the streets of Moscow during the 1980 Olympics.
The Belgrade's artistic director Hamish Glen will direct the play which will run in the B2 auditorium from 17 March until 7 April.
We Love You City will celebrate the 25th anniversary of Coventry City's winning the FA Cup and the arrival of the 2012 Olympic football tournament, much of which will be played in Coventry. The play will run from 8 until 26 May.
Lord Coe, who chairs the London Organising Committee of the Olympic Games and Paralympic Games, said, "I'm proud that with the help of partners such as the Belgrade Theatre and their productions of Stars in the Morning Sky and We Love You City we're delivering our vision to use the power of the Olympic Games and Paralympic Games to boost participation in the arts."
REP over the moon as Christmas show gets Crescent staging
Birmingham REP which is celebrating its 99th birthday has announced that The Wind in the Willows will be its Christmas production.
The REP's Centenary Square building is being redeveloped so the new production of Kenneth Grahame's classic will be presented at the Crescent Theatre in Brindley Place.
Stuart Rogers, Birmingham REP's executive director, says, "The Wind in the Willows is a wonderful story and perfect for family audiences.
"We're looking forward to presenting the show at the Crescent Theatre with its welcoming and intimate auditorium that will enable the audience to feel like they really have joined Ratty, Mole, Toad and Badger on the river bank."
Adapted for the stage by Alan Bennett, the REP's production will run from 28 November until 19 January.

Dirty Dancing tour extends to the Midlands
Two Midlands theatres are to host the stage show of Dirty Dancing next year.
The show which is on its first national tour will stop off at Nottingham's Theatre Royal from 12 February until 2 March before going on to the Regent Theatre, Stoke from 12 until 30 March.
Dirty Dancing played for five years at London's Aldwych Theatre. It was the fastest-selling West End show of all time and advanced ticket sales totalled more than £15million.
A spokesman for the producers said, "We're delighted and proud to announce an extension to the national tour, after such incredible demand to date.
"It's been wonderful to see audiences across the country embracing the show with the same passion and support that it received in the West End."
What's on this week
the Russian State Ballet and Orchestra of Siberia visits Wolverhampton Grand with La Fille Mal Gardee by Frederick Ashton tomorrow (Monday), Tchaikovsky's Swan Lake on Tuesday and Sleeping Beauty on Wednesday;
madcap company Oddsocks performs Shakespeare's The Merry Wives of Windsor at the Bridge House Theatre, Warwick from tomorrow until Friday;
Hull Truck takes Dennis Kelly's thriller DNA to Nottingham's Lakeside Arts Centre tomorrow and on Tuesday, and to the Studio at Curve, Leicester from Wednesday until Saturday;
Tim Firth's Calendar Girls makes a date with Leicester's De Montfort Hall from tomorrow until Saturday;
David Essex experiences All the Fun of the Fair at Coventry's Belgrade from tomorrow until Saturday;
Balletboyz presents Talent, an "explosive feast of exhilarating live dance, cleverly fused with the company's trademark use of film and behind the scenes footage", at Stoke's Regent Theatre on Tuesday;
Tamisha performs Ishy Din's Snookered, "a window into the lives of young British Muslims, part of a 'snookered' generation, burdened by cultural expectations yet charged with personal dreams," at the Arena Theatre, Wolverhampton on Tuesday and Wednesday;
the Ukrainian National Opera of Kharkiv stages Verdi's La Traviata at Warwick Arts Centre, Coventry on Tuesday and Stoke's Regent Theatre on Thursday along with Puccini's Madama Butterfly at the Regent on Wednesday;
Craig Gazey, Gemma Bissix, Vicky Entwistle, Suzanne Shaw and Steven Blakeley perform arguably Mike Stott's best-known play Funny Peculiar at Leicester's Curve from Tuesday until Saturday;
exploring "the clash of youth, class, race and justice", Vivienne Franzmann's Mogadishu visits Warwick Arts Centre, Coventry from Tuesday until Saturday;
Opera North are at Nottingham's Theatre Royal with Puccini's Madama Butterfly on Tuesday and Friday, a new production of Norma by Bellini on Wednesday and Saturday, and a new production of Handel's Giulio Cesare on Thursday;
leading female impersonator Ceri Dupree presents a "celebration of the world's most fabulous females" in The Ladies I Love at Nottingham Arts Theatre from Tuesday until Saturday;
performance artist Bobby Baker, who's had personal experience of mental illness, tackles health and well-being issues in Mad Gyms and Kitchens in the Studio at Warwick Arts Centre, Coventry from Wednesday until Saturday;
a "story of boots, booze, love and laughter", choreographer David Bintley's Hobson's Choice will be a Birmingham Royal Ballet presentation at the city's Hippodrome from Wednesday until Saturday;
created from scratch at each performance, Showstopper! The Improvised Musical will be a one-off performance at Northampton's Royal on Thursday;
Sean Burn's Next Swan Down the River Might Be Black, following the shifting alliances of three young women on a psychiatric ward over a momentous week, is at Wolverhampton's Arena Theatre on Friday;
award-winning author Alex Wheatle stages his one-man show Uprising detailing how he became a writer—a journey which took him from the brutality of children's homes to being at the heart of the riots in Brixton—at The Drum, Birmingham on Friday;
past principal performers from the West End production of Les Miserables go Beyond the Barricade at Northampton's Derngate on Friday;
Dutty Money, which follows the story of a struggling child entertainer living in the slums in Jamaica who pretends to be his landlord's fictitious daughter, should raise a laugh at The Drum, Birmingham on Saturday;
Baby Boomers which "blends mask, puppetry and extreme balloon modelling to tell stories of love, loss and regret" is at the Bridge House Theatre, Warwick on Saturday;
William Shakespeare's The Taming of the Shrew continues at Derby Theatre until Saturday; and
at the Royal Shakespeare Company in Stratford, The Taming of the Shrew continues in the Royal Shakespeare Theatre until Saturday while in the Swan, Helen Edmundson's new play The Heresy of Love continues until Friday, 9th March and David Edgar's new play Written on the Heart, which tells the story of the making of the King James Bible, and Measure for Measure both continue until 10th March.