Radio plays, a love story and Shakespeare head Lichfield Festival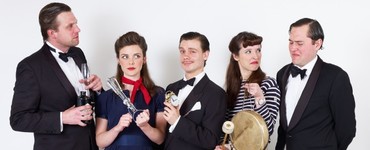 Drama has a place at Lichfield Festival although concerts featuring international performers tend to attract the majority of the 50,000 visitors who visit the Staffordshire event each summer.
This year's festival runs from Wednesday (4 July) until Sunday, 15 July.
One of the attractions this week will be Seabright Productions' and Fitzrovia Productions' The Fitzrovia Radio Hour.
This new show recreates the unique spirit of 1940s radio plays and evokes a dinner-jacketed age of casual imperialism and stiff upper lips.
Throughout the plays, sound effects are created live: a Bakelite hairdryer imitates a heating torch, a desk fan becomes an aeroplane and multiple types of cabbage help to stage a fight scene.
The Fitzrovia Radio Hour runs in Lichfield Garrick Studio on Thursday and Friday.
A "love story of long-term commitment, daydreaming and a shed", Agnes and Walter: A Little Love Story is at the Garrick on Friday.
Dan Canham, Sarah Lewis, Ronnie Beecham, Elizabeth Taylor and Margaret Pikes perform the piece which crosses boundaries of dance and theatre to tell its story through physical theatre, clowning and music.
Lichfield Festival regulars MDCC Theatre Company will as usual be staging a Shakespeare play in Stowe House Gardens. This year's offering is The Tempest and the first performance will be on Saturday at 2pm.
Maggie Fox and Sue Ryding, otherwise known as LipService, will play an array of characters including Sherlock Holmes and Dr Watson in Move Over Moriarty at the Garrick next Sunday (8 July).