London-based theatre maker wins international award for puppet work
Published: 30 June 2012
Reporter: Sandra Giorgetti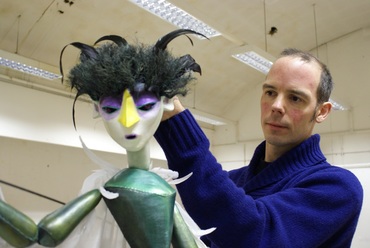 Jonathan Storey has won this year's Arlyn Award for Outstanding Design in Puppet Theatre.
His production Jack Pratchard, concerning one man's journey to do the right thing for the good of mankind, was praised for its innovative concept, effective unified design and delightful use of scale. The show played the Edinburgh Fringe in 2010 and Little Angel Theatre last year.
Jonathan Storey, who was Little Angel Theatre's first Artistic Associate in 2011, will receive the trophy and cash award in a ceremony that will take place at the Theatre's summer party on 7th July.
The Arlyn Award is an international competition recognising excellence in puppet theatre design. It was established by the North Shore Arts Commission, Canada, in memory of London–born Arlyn Patricia Hill Coad, puppet designer, co-founder and artistic director of Coad Canada Puppets.
Storey is currently performing in The Ugly Duckling playing at the Little Angel until 8th July.