Latest Theatres at Risk list released
Published: 23 January 2018
Reporter: Howard Loxton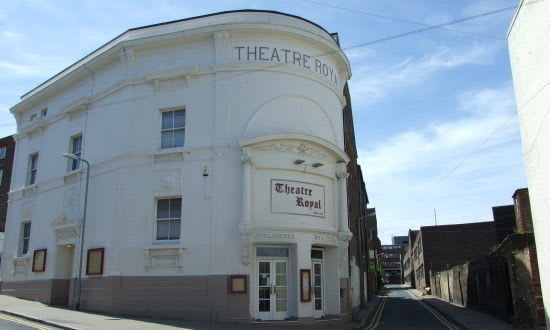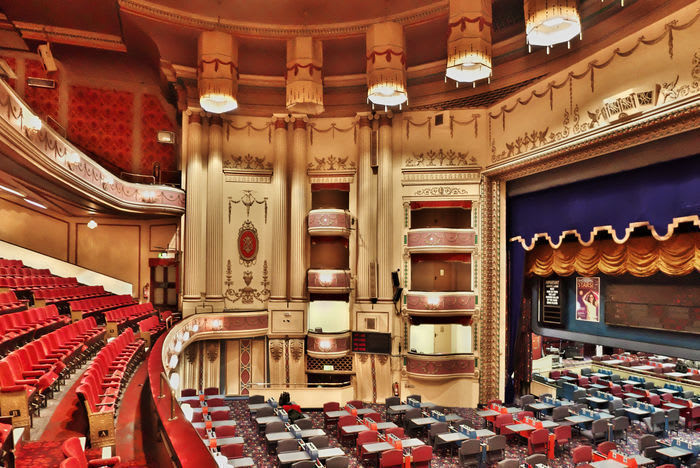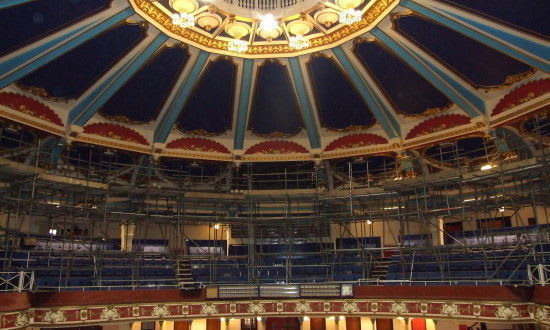 At a news conference at the Soho Theatre, introduced by comedian and television presenter Dara Ó Briain, the Theatres Trust announced its Theatres at Risk Register 2018.
It named 35 theatre buildings across Britain that are most at risk of being lost despite all still having real potential for future use as a working performance space.
As Dara Ó Briain said, "they are not on this list because they are beautiful ruins; they're here because they are just a few good decisions from living again, of taking their place at the heart of their communities.
"We are asking local authorities to stop viewing these sites as liabilities and start thinking of them as opportunities; to work with eager local campaign groups and experienced theatre operators to put these incredible spaces back to work at the heart of their communities."
2018 brings two additions to the register and sees three deletions, sadly not because they have been saved but because they have been demolished.
The Theatres Trust was set up by Parliament in 1976 as the National Advisory Body for Theatres. It exists both to protect important historic theatres for the future and to promote the quality and design of existing and new theatres and is a statuary consultee on theatres in the planning system. A champion of live performance, it supports excellent theatre buildings, which meet the needs of their communities by providing advice on planning and development, supplying resources and advice to make theatres sustainable and offer financial assistance through grants.
The Theatres Trust works with theatres and local authorities to find solutions to keeping building, such as those on the register, in use. It sees its role as to provide help at all levels, not just to official bodies. Its advice is available to any organisation seeking to protect our theatres and to individuals too who may want to start organising a group to save a local venue.
Jon Morgan, Director of the Theatres Trust, and other speakers emphasised the importance of encouraging local partnerships, to review the social and economic benefits of theatres and performance spaces and for local authorities to include culture in their planning, to recognize their role in place making and respond to the groundswell of support from local people. Morgan offered an eight-point list of things that councils could do differently to help.
Steve Marmion, director of host venue the Soho Theatre, after welcoming those attending, commented on the changing use that had been made of the space in which they were meeting: a synagogue, and Indian restaurant and now a comedy space which has already welcomed a new audience of over 100,000 since its last conversion. He spoke of the way in which a theatre is a partnership between building, creative team and audience and of the value of working closely with local authorities.
Local Authority Involvement
Dara Ó Briain, who is himself a Theatres Trust Trustee, pointed out that its work was not just about preserving Matcham designed pieces of architecture and the like but about what we want for communities, it was about democratising theatre.
This was a theme Marmion also took up speaking of his theatres development of work in Waltham Forest where they are already involved in a community education programme. They are now working with the owners of Walthamstow Granada to create a high quality proposal for a new comedy and theatre venue in a former cine-variety building that is on the At Risk list. The London Borough of Waltham Forest supports Soho's ambition and this would be a new space in a borough that currently has no major permanent theatre or performance venue.
Local authority involvement has been a key factor in the rescue campaign for the Bradford Odeon. Built in 1920, it is the country's largest theatre outside London with a huge auditorium, ballroom, restaurant and other facilities. Both Lee Craven of Bradford Live, the non-profit charitable company that won the right to re-develop the building, and Councillor Alec Ross-Saw of the Bradford Metropolitan District Council spoke of their ambitions plans, though the theatre is still listed as "at risk".
Craven spoke of the need to be multipurpose. Changes in the music industry saw touring as becoming increasingly important. Shopping too is going online making entertainment more important as a central attraction and a catalyst for regeneration. It takes time to negotiate with contractors, to find operating partners and Bradford Council have been understanding when asked for more time to do so.
With local councils facing cuts of 70-75% in recent years, money has been tight but, where it is not possible to offer capital funding, councils can offer loans instead. (Bradford have 'in principle' agreed a £12 million loan towards anticipated £20 million restoration costs.) When buildings are actually council owned, it is important to give long enough leases to make the expenditure to bring them back into use viable or it is difficult to make a case to funding sources—and it is not just capital funding. A peppercorn rent may be the solution to meeting the cost of operation and assessing the community value of the venue could show it to be a bargain.
Jon Morgan's Recommendations to Local Authorities
Review the economic and social benefits of a theatre when making any decision about its future.

Ensure the inclusion of culture within local plans to promote and encourage new venues and protect existing buildings.

Offer full support to community groups campaigning to get buildings back into use, such as suspending demolition proposals and putting support behind funding bids.

Intervene to prevent deterioration of listed buildings through repairs notices and Section 215 notices.

Provide assistance to groups to investigate the viability of their theatre and development proposals.

Offer theatre campaign and community groups leases with a reasonable length and conditions to enable them to secure funding from other partners.

Offer affordable rents to operators that want to develop theatres as future performance spaces.

Offer capital grants and / or loans to support capital works projects.
Changes to the Register of Theatres at Risk
The full Register of Theatres at Risk can be seen on the Theatres Trust web site.
Added to the list are:
Theatre Royal, Margate
This theatre was on the register before but removed in 2012 when the council agreed to subsidise it temporarily. It has been re-added, despite a theatre operator being recently appointed as preferred partner to operate the building, because a considerable works project is needed to restore the building together with cross-funding facilities to sustain ongoing operation. With the significant capital funding required not yet secured, the future of the theatre is in doubt.
Streatham Hill Theatre
The Trust has monitored this Grade II listed Sprague theatre for many years. It had been kept in use for bingo but that operation within the theatre has now closed and the building is again under threat.
Removed from the list are:
Futurist Theatre, Scarborough
The council has not followed Theatres Trust advice and has approved demolition of the building, which is due to start in March at a cost of c £4 million as it supports the cliff face beyond. This will leave an empty site when that money could have paid for a restored and reopened venue.
Colwyn Bay Pier Pavilion
Royal Victoria Hall, Southborough
Both these theatres have already been demolished but the news is not all bad for in both cases new performance venues are planned, the groups concerned working with the Theatres Trust to ensure the most practical solutions.
Other theatres
There are developments with a number of other venues listed.
Alexandra Palace Theatre has works on site to reactivate the space but the Park and Palace Trust have yet to achieve their fundraising target for the capital needed.
A local charitable trust has secured a 20-year lease on Peterborough Broadway and it is currently programming up until 2019. The Theatres Trust, which challenged the application to turn the building into a residential site on the grounds that it failed to show that it was not viable as a cultural venue, is offering the new operator its support and advice.
The local authority has allowed the Friends of Dudley Hippodrome to take control of the building but the lease is only for five years, which has been a bar to finding leverage funding. If discussions aimed to extend the lease are unsuccessful, the Hippodrome could be under threat of demolition.
In Sutton, the only London borough now without a theatre, the Secombe and the Charles Cryer closed in 2016 when the operator went into administration. The council will only offer the buildings on a commercial lease: the Theatres Trust believes a peppercorn lease to a community operator could save these theatres.
Other theatres actively exploring viability and developing business plans or undertaking options appraisals include Brighton Hippodrome, Burnley Empire, Spilsby Theatre, Salford Victoria and Leith Theatre, Edinburgh.