What's on in the Midlands
Published: 22 January 2022
Reporter: Steve Orme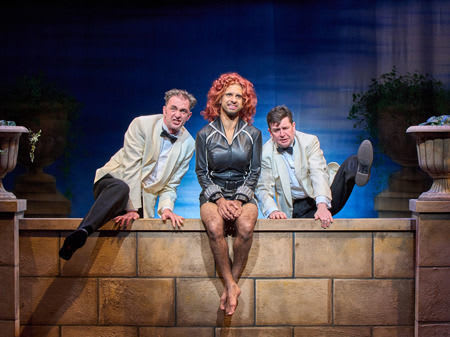 The Russian State Ballet of Siberia visits the Royal Concert Hall, Nottingham with Prokofiev's Cinderella on Monday, Tchaikovsky's Swan Lake on Tuesday and The Nutcracker, also by Tchaikovsky, on Wednesday.
The Birmingham REP production of The Play What I Wrote, celebrating "Britain's finest and funniest ever double act" Morecambe and Wise, tours to Theatre Severn, Shrewsbury from Monday until Saturday.
The musical Waitress, with book by Jessie Nelson and based on the motion picture written by Adrienne Shelly, and music and lyrics by Sara Bareilles, is served up at Curve, Leicester from Monday until Saturday.
Rumpus Theatre Company continues a spring play season at the Pomegranate Theatre, Chesterfield with Philip Goulding's comedy The Titfield Thunderbolt from Tuesday until Saturday.
Celebrating "21 fabulous years as one of the most successful dance shows ever", Spirit of the Dance is at the Courtyard, Hereford on Wednesday and a "fast-paced adaptation of Robert Louis Stevenson's classic novel" Dr Jekyll and Mr Hyde should have the audience on the edge of its seats on Friday.
Farrell Cox's work-in-progress Ambivalence which tells the autobiographical story of a woman's journey through pages of her diary dances into Lakeside Arts, Nottingham on Thursday.
Strictly Come Dancing's Robin Windsor and a cast of "top West End performers" pay "the ultimate tribute to Moulin Rouge" and other musicals in Come What May on the main stage at the Belgrade Theatre, Coventry on Thursday while in the B2 auditorium Utopia Theatre presents Here's What She Said to Me, "the moving story of daughters and mothers in the world of migrations and shifting identities", from Thursday until Saturday.
The New Vic Theatre, Newcastle-under-Lyme takes Beauty and the Beast back to its roots for a re-telling of the story which continues until Saturday.
Jason Donovan heads the cast of Goldilocks and the Three Bears which continues at Birmingham Hippodrome until Sunday.
Gareth Williams plays former MP Dennis Skinner in Kevin Fegan's new play The Palace of Varieties which continues at Derby Theatre until Saturday 5 February.
Birmingham REP and the Children's Theatre Partnership continues to present Robert Icke's adaptation of George Orwell's Animal Farm on the main stage at the REP until Saturday 5 February.
Related listings

Animal Farm - George Orwell, adapted and directed by Robert Icke (Children's Theatre Partnership in association with Birmingham Rep)
Waitress - Music by Sara Bareilles, book by Jessie Nelson