Three Dirty Plays
Dirty Protest
Sherman Cymru, Cardiff
(2008)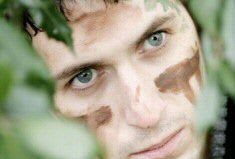 As part of the Sherman Cymru's Spring Board New Writing Festival, the self-styled "Guerrilla Theatre" company, Dirty Protest, offers three short plays by three different writers. None of these plays have been in rehearsal for long: a brutal two or three days. However, all were off-script, polished performances, far tighter than an average rehearsed reading of a work in progress.
In the River
By Samuel Bees
First time playwright Samuel Bees creates a dreamy, ethereal feel to his story of young love and tragedy. Gareth Milton and Caryl Morgan star as a young couple who dream of escape from their troubled lives, to set up a makeshift home, hidden away high in the mountains.
Bees' text and Mared Swain's direction shifts from light and naturalistic exchanges to longer, poetic soliloquies. The narrative line is at times a little cloudy and this may not yet be a fully realised play, there is nevertheless a captivating quality to Bees' writing which makes him a talent worth nurturing.
The Whole Truth
By Tim Price
Two men stand back to back, apparently searching through woodland for a lost groundsheet. One, Aled Pugh, a young, sharply dressed, Cardiff guy, grappling with life, fearing the imminent loss of his mother and the steady decline of his grandmother, and pondering his failing relationship with his girlfriend, draws in a spellbound audience with a soft, intimate and conspiratorial tone. The other, Jack, (Lee Mengo), boasts a shell suit and an altogether less reflective approach to life ("I stepped in shit earlier").
This is a well-observed, highly absorbing and very funny text, with pacy direction from Catrin Rees and excellent performances from Pugh and Mengo, who heighten the comedy with their impeccable ensemble work. In fact, this is such a slick piece, it's very hard to believe it's the product of only two days' rehearsal.
Co-Founder of Dirty Protest, Price sees this as Chapter One of The Whole Truth. He is throwing open chapters two and three to other writers. His piece will be posted on You Tube in the next few days, and the winning submissions will be staged along with the first act, at the Latitude Festival in July.
Carnival
By Colette Kane
Collette Kane comes to Dirty Protest after a year's attachment to Paines Plough. Carnival came out of her time there and originally played at the Globe Theatre.
Here Steve Meo, Dan Curtis and Eiry Hughes give assured performances in this distinctive piece. This is a very modern story of a young offender recently released from prison and determined to keep to the straight and narrow, and his old friend who seems hell bent on pulling him back into mischief. But the whole piece has been written in blank verse, with Shakespearean asides and rhyming couplets. For all that Kane's text, with assured direction from Matthew Bulgo, loses none of its modern, easy naturalism.
Dirty Protest are creating quite a stir in Welsh theatre. This was the first time they have performed in a theatre venue; until now their plays have been staged in a yurt in the middle of Cardiff. There was a party atmosphere in the bar and dance music filled the auditorium as the audience filed in. And on every seat was an open invitation to the after-show party at a local bar. In less than a year, the funky accessibility of this company has earned them a young, vibrant, cult following.
But Dirty Protest is about much more than quirky marketing. They have a growing popularity that looks set to endure. Having seen the calibre of writing and performance they are capable of here, its not hard to see why.
"Three Dirty Plays" played for one night only at the Sherman Cymru, Cardiff. "The Whole Truth" will be performed at the Latitude Festival, Henham Park, Southwold in July. Dirty Protest stage monthly new writing events in a yurt in City Road, Cardiff.
Reviewer: Allison Vale