Three Men in a Boat
Jerome K Jerome, adapted and performed by Rodney Bewes
Customs House, South Shields, and touring
(2005)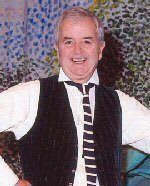 Rodney Bewes has been touring his one-man Three Men in a Boat for around ten years, and it shows. It shows in his comfortable familiarity with the piece, which means he can break off to respond to something from the audience and then resume with exactly the same movement and at exactly the same word, which itself is sure to get an appreciative smile, or even a laugh, from the audience, but, less positively, it shows in a certain sloppiness in the performance, so that, for example, he rushes some parts to the extent that his diction goes and we lose some of what he says. I wondered if it was just me, but others in the audience said they had felt the same way.
It's the sort of show which keeps a smile on your face thoughout and occasionally makes you laugh out loud - much the same, in fact, as Jerome's novel, to which it remains very faithful. Redolent of a more innocent age, it could well be described as "comical pastoral" with a touch of the "historical". Bewes establishes (as does Jerome in the book) an easy relationship with his audience, addressing them directly, responding to their responses (and even, in fact, inventing a few ), with that kind of self-deprecating humour which immediately gets them on his side.
It looks good: on one side of the stage we have the house with chair, stool, table, books, lamp and Montmorency (a toy dog of some considerable vintage).and on the other the boat itself, a wonderful affair dating from the early twentieth century. The backcloth is a Seurat-like painting of a riverside scene, which does indeed set the scene nicely. The lighting (warm and cosy most of the time) and sound complement the set and performance well - with the inevitable "mistakes" which allow him to share with the audience a moment of "exasperation" with the "incompetent" technical crew.
It is, in short, a pleasant and undemanding evening of theatre but - dare I suggest it? - it might be time to get a director (for Bewes is producer, adapter, director, actor and roadie!) to take a look at it and tighten it up somewhat.
Reviewer: Peter Lathan