50 Women in Theatre
Edited by Cheryl Robson
Supernova Books
Released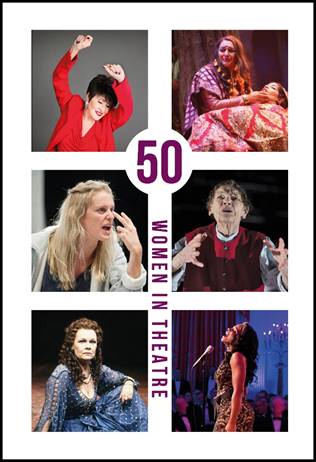 Some months ago I received a review copy of 50 Women in Theatre. I am a notoriously slow reader and at the same time rather a literalist when it comes to non-fiction but with International Women's Day pricking my conscience here I am at last writing about my experience of the book.
On Saturday, I read a piece by transparency campaigner Gina Miller in The Guardian and it struck me as tragic that the piece closed with "it is important… for society and its institutions to accept that women must not be bullied or intimidated. We have a rightful place in all walks of life, including in positions of power."
What an inglorious indictment on society that in 2022 this even needs saying, but also how shameful of its members because who can bring about change if not them? Strike that. If not us?
50 Women in Theatre is a book about women who have brought about such change. Each one makes or has made their mark on the industry, pushing boundaries, making the unimaginable happen and paving the way for their successors.
It is striking that so many came from ordinary-sounding backgrounds, not Broadway royalty or theatre dynasties. Often, these women fell into the industry they have since helped to shape by chance or because of the opportunities available to their younger selves.
Who could have imagined that American musical theatre icon Chita Rivera was sent to dance classes to cure her of jumping on the furniture, or that Moira Buffini started writing plays for fun because she could at a progressive state school that valued the arts, whilst South African poet, playwright and director Gcina Mhlophe worked in service and as a writer and newsreader before becoming a storyteller, performer and activist.
What these fabulous 50 seem to have in common is that something, somewhere lit a flame that could not be extinguished despite the odds against them.
But I am getting ahead of myself. 50 Women in Theatre is a book of two halves and two different reads.
The first section is in three parts, starting with a highly readable summary of the early women pioneers of theatre in Britain, Ireland and America by researcher and performer Naomi Paxton; writer, performance consultant and historian Susan Croft struts her knowledgeable stuff taking over at the post-war period and brings the narrative up to date, with a somewhat bristling conclusion penned by Gabrielle Brooks of Blackstage UK, looking ahead and at what needs to change for theatre to be more equitable and inclusive.
There is much to bridle about, take theatre writing. Notwithstanding women's contribution to professional playwrighting over some four hundred years, if we take Aphra Behn as our starting point, only 26% of new plays on main stages in Britain were by women when counted in 2018.
Susan Croft acknowledges the exponential increase in women writers in the twenty years since writing her oeuvre "...She Also Wrote Plays": an International Guide to Women Playwrights from the 10 to the 21 Century but this also reinforces the slow progress towards parity.
I remember the flurry of attention in 2008 around Rebecca Lenkiewicz's Her Naked Skin, not because of its content, but because its production at the National Theatre was the first by a living woman playwright on its main stage.
Behind Lenkiewicz are the likes of Winsome Pinnock, whose Leave Taking, first seen at the Liverpool Playhouse Studio in 1988, was the first play by a black woman to be staged at the National Theatre in 1995. In their footsteps trod Natasha Gordon; when her play Nine Night transferred from the NT in 2018, it was the first by a black British woman playwright in the West End.
This lack of gender equivalence of course throws a shadow: it took until 2009 for a woman to win the Olivier Award for Best New Play—it went to American journalist and playwright Katori Hall for The Mountaintop. The story is similar in other fields; only four women have ever won the Oliver Best Director Award (Deborah Warner, Marianne Elliott, Lyndsey Turner, and Miranda Cromwell).
These statistics reflect the truism that you can't win the game if you're not allowed to play and that applies not just to taking home the big gongs but the obstacles preventing equal access to the industry in the early years for many under-represented groups.
The second half 50 Women in Theatre profiles the fifty women of the title, firstly with professional biographies of twenty-five pioneers and legends, and then a further twenty-five in their own words. This section reads like a list of 'firsts' achieved in the face of a variety of discriminatory practices.
Deeply embedded racism, says Australia's Rachael Maza; my work being judged differently because of my gender, says Moira Buffini; the reluctance of men to think that women can do anything says Marsha Norman; dismantling attitudinal discrimination and trying to end ableism, says Jenny Sealey; being working class and the fact that the industry is run by white cis gendered straight men means they get to eat all the pie, says Kate O'Donnell, adding, when we get to make our small queer trans pie, they want that too.
50 Women in Theatre is an important book and by no means a moaning read. Its special lens brings into focus the uphill climb women have had, and still have, across all sectors in the face of long-engrained patriarchy.
In her slightly tirading chapter, Gabrielle Brooks says that British Theatre is an institution born of white privilege; she doesn't define her terms so I am inclined to demur, but she is right when she says that the theatre industry favours the white, cis gender men that stand in the way of the likes of Kate O'Donnell.
For Brooks, it is a cycle perpetuated by nepotism and other conventions that discriminate against those who describe themselves differently and it stretches right back to barriers in education, deterrents to training and lack of early years opportunities.
The problem is the same whatever the situation: you can't get a turkey to vote for Christmas. So how does the much needed change start: from within with creatives calling out the unacceptable practices and management taking them seriously, from institutions that bolster the practices challenging their out of date benchmarks, and from the wider theatre-going community voting with its ticket money.
If the various voices in the bigger theatre society stay silent then they are complicit in maintaining the toxic status quo.
Oscar Wilde said the one duty we owe to history is to rewrite it. I disagree. I think we have to own it and move on better. We can start today following Kully Thiarai's suggestion from the book launch: be curious, be questioning, be brave—collectively we can make change.
Reviewer: Sandra Giorgetti