A Midsummer Night's Dream
William Shakespeare
J2 Productions in association with Southwark Playhouse
Bermondsey Square Hotel
(2011)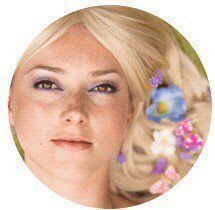 A new company, formed by Jayne Dickinson and Jennifer Bryden to mount this production of A Midsummer Night's Dream, J2 ambitiously present it outdoors on the first floor bar terrace of this trendy new hotel, with a prologue taking place in the square below. It is a very intimate presentation, played largely at one end of the terrace, where Araxie Kutchukian's greensward set centres on Titania's hammock bower, decked with strings of fairy lights, and on a pathway between the tables that seat an audience of some forty (all provided by the management with blankets to guard against any late evening chill). There is a '60s flower child look about the humans, with wide flares and petal painted faces. Oberon and Puck are in shiny leotards decorated with golden leaves and trailing vines while a white-robed Titania and her troupe are given assorted wings of fur and tattered cloth.
The cast works hard: humans double fairies (except for Lysander who doubles Bottom) and Peter Quince, Snug and Flute, the Athenian working men who stage a play for the Duke's wedding, provide third roles for Lysander, Hermia and Helena with cross-gender casting. Director Dickinson has had to edit the text to accommodate the doubling and quick changes. This sadly loses the final bride-bed blessing of Theseus's marriage and creates an odd moment when only one fairy is on attendance on Titania so that instead of the "You spotted snakes" song, there is not even one fairy left to "stand sentinel". Theseus's hunting party also gets chopped and those who love the play will find other chunks of favourite verse are missing, but the core story is clearly told and the play survives.
With a hectic pace off-stage perhaps it is not surprising that things are frequently played in rather a rush. Not much savouring of the verse here and, though it is intelligently spoken, there is seldom time allowed for a line to be prompted by thought before it is delivered. Nevertheless there are lively performances from Ian Hallard and Emma Carroll and Nicholas Waters and Lorna Stuart as the young lovers whose pairings the Fairy King seeks to correct.
Cameron Robertson's Oberon is rather laid back and Rachael Swift's Titania, despite her raunchy moments, more the bridge party hostess than a powerful Queen of the Night with devotees around the world. Little here of their passionate feud that has been wrecking the summer's weather (but I think that those lines got cut too). Robertson's Theseus is played more coarsely, as befits the rough adventurer and, whatever my reservations, Swift demonstrated true professionalism on press night by taking over the roles of Titania and Hippolyta at only a few hours notice from an actress who had been taken ill.
Peter Steele is suitably harsh natured as Hermia's controlling father, though making little attempt to hide his obvious youth; he has great fun as a giggly cockney Puck, though sometimes his laughter seems more manic than naughty. Hallard makes his Peter Quince pedantically different from his other roles but, though the workmen's play of Pyramus and Thisbe got laughs from the audience, his amateur actors are the weakest part of this production, even Waters' strong-voiced Bottom is too consciously performed, but after a few performances he may make the character his own.
It is not easy playing in these circumstances (and some of the cast were making their theatre debuts) but this young cast bring dedication and energy to the production. It is not a driven by a director's concept but aims to provide an enjoyable evening and that is what the first night audience had despite a threat of rain (that turned into a rainbow) and the howling police sirens with which these actors had to compete.
"A Midsummer Night's Dream" plays at the Bermondsey Square Hotel Friday - Tuesday until 23rd August 2011.
Reviewer: Howard Loxton