A Flea in Her Ear
Georges Feydeau, translation by John Mortimer
Old Vic
(2010)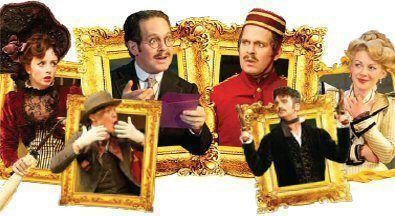 Following a stream of high profile pantomimes, Kevin Spacey has chosen something different for Christmas 2010. He has invited Sir Richard Eyre to direct a farce from the man whose name is almost synonymous with the genre, Georges Feydeau.
This version of A Flea in Her Ear, translated by John Mortimer, now most famous as the creator of Horace Rumpole, first saw the light of day at this venue in 1966 when it housed the National Theatre.
It does not date at all, which is the nature of farce. Though set in 1900 when Dear Queen Victoria was still primly sitting on the British throne and with costumes to match, the shenanigans that went on behind closed doors in fin de siècle Paris could as easily happen in London today. The main reason is that the subject of this play is sex, with sex and sex as the timeless subsidiary topics.
The opening scene takes place in the drawing room of a house owned by a timid little bespectacled insurance broker with a grandiose name, M. Victor Emmanuel Chandebise, played by Tom Hollander.
Due to a sexual failure described delightfully as "a dried up river" and a mislaid pair of braces, Lisa Dillon as his wife Raymonde suspects him of carrying on an adulterous affair in a den of iniquity.
The first act also introduces a stream of other characters, all of whom will come back to haunt us. Madame's best friend Fiona Glascott's Lucienne and her stereotypically Spanish husband, John Marquez as a man more maddened bull than human being, soon come to crossed purpose like everybody else..
There is a butler with a Leslie Phillips accent played by Tim McMullan, his randy wife Maggie Senior and her young lover, Freddie Fox playing Chanderbise's nephew Camille.
The latter has the most grating speech impediment that leaves him unable to vocalise his consonants. Add in a doctor and a friend desperate to bed Raymonde (Oliver Cotton and Jonathan Cake) and you complete the set.
They all decamp to the Hotel Coq d'Or, a louche bordello that looks like some expensive contemporary sex club, thanks to the worryingly colourful imagination of designer Rob Howell. In addition to the statutory over-supply of doors, its best feature is a bed that revolves through a wall, creating moments of farcical confusion, which are the play's high points.
In the bordello, thanks to Sir Richard's timing and choreography, the inhabitants chase each other all over the shop at breakneck speed without ever quite catching up and causing an accident or murder.
In addition to the household, this establishment is packed with "characters" led by the ex-soldier proprietor, Lloyd Hutchinson very funny whenever a sadistic streak can be let loose. This happens most often in the presence of his bellhop, Poche played by Hollander again.
This coincidence of identical men, one a master and the other a servant, generates much of the humour through the final two acts and should keep the actor very fit without the need to invest in a gym membership.
All is eventually resolved at the end of almost 2½ hours and, unbelievably, everyone seems set to live happily ever after.
There is little doubt that as farces go, this is a classic and there are certainly a lot of laughs, although at times, some of the comedy can go a little too far over the top.
Tom Hollander (twice over) and Lisa Dillon both play their parts expertly, while many of the supporting actors have a chance to show off, John Marquez perhaps proving the greatest crowd-pleaser.
"A Flea in Her Ear" runs until 5 March 2011
Reviewer: Philip Fisher