The Revenger's Tragedy
Cyril Tourneur (or Thomas Middleton)
Royal Exchange Theatre, Manchester
(2008)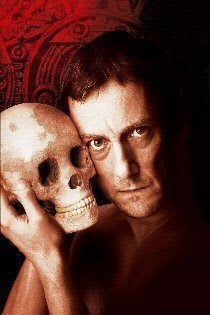 Jonathan Moore directs TV star Stephen Tompkinson in an edited, modern-dress revival of The Revenger's Tragedy, traditionally attributed to Cyril Tourneur but which many people now believe was written by Thomas Middleton, which has also just opened at the National Theatre in London.
Tompkinson plays Vindice, who, as his name suggests, is seeking vengeance for the death of the woman who was the great love of his life, Gloriana, who was poisoned by the Duke for resisting his advances. With the help of his brother Hippolito, Vindice creates the character of the wily Piato and offers his services to the Duke's son and heir Lussurioso. However Piato's task for Lussurioso is to obtain for him Vindice's own virginal sister Castiza, who has so far spurned his advances.
A large part of the weight of this play rests on Tompkinson's shoulders, and he certainly shows himself to be up to the task. He obviously revels in the character play of his character (he has to appear as himself later to Lussurioso and makes himself an exaggeratedly deferential country boy so as to seem very different from Piato) and while his more emotional moments are perfectly good, he gets plenty of opportunities to show his skills at performing comedy.
Despite the title, comedy is an important part of this production, and a lot of the text is played for laughs or has modern-speak comic insertions, which sometimes work and sometimes appear grafted on. This is most evident in the characters of the Duke's younger sons Ambitioso, Supervacuo and Junior (played very well, within the style they have been directed, by Merryn Owen, Sam Fletcher and Mikey North), who are played as cartoon punks, who are funny at first but can get a bit wearing and are so over-the-top that serious moments for any of these characters do not fit comfortably. There is a completely pointless gag with a long set-up that feels like one of the corniest moments in a student revue, when a character has a long speech before being told by the stage manager that his character has been cut.
As Lussurioso, Jonathan Keeble is wonderful and has a voice with a rare quality of drawing the audience's attention all the time he is on stage and making 400-year-old (almost to the day) words sound perfectly natural, modern and understandable. Robert Demeger is superb as the Duke, and has multiple indignities to suffer, including being revealed naked in the shower, having his tongue cut out (watch out for blood splashes if you're in the front row) and being waltzed around the stage as a dead body.
Stephen Hudson plays a very good part as Spurio, the Duke's bastard son whom the Duchess, looking like someone from Dynasty in the 80s as played by Corinna Powlesland, desires, as does Eileen O'Brien as Vindice's Irish mother Gratiana and Stephanie Brittain as his sister Castiza. Other parts are played by John Gillett, Marc Parry, Damian O'Hare and Drew Horner.
Designer David Blight reminds us of the gruesome subject matter with a bone theme reflected in the design of the furniture and under the crumbling edges of the tiled floor. Renny Krupinski once again directs the fights, which in this play are pretty gruesome and bloody at times.
Whilst the production is rather gimmicky in places, as though it is trying to impress the "A" Level students who will no doubt be dragged along with how irreverent and modern it can be with a classic text, it is still entertaining, moves at a good pace throughout and features some very good performances.
Until 28th June
Reviewer: David Chadderton