Sweeney Todd
Music and Lyrics by Stephen Sondheim, Book by Hugh Wheeler
Royal Festival Hall
(2007)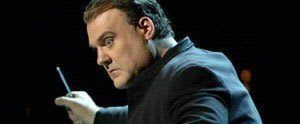 This brief revival of Stephen Sondheim's musical black comedy is part of the celebrations to mark the Royal Festival Hall's reopening following a two-year, £111m makeover.
David Freeman's production features the kind of cast that one would not normally expect to see outside a gala performance. Therefore, it is not surprising that the Royal Festival Hall run was sold out even before the first of the four shows opened.
Though billed as a concert performance, Freeman actually presents something that is well-staged and could easily pass for a full staging, especially with such a large cast. This is supplemented by an onstage orchestra, the London Philharmonic under Stephen Barlow, no less. When all come together, the musical power is awesome.
They are supported by an enthusiastic young team of singers from the Guildford School of Acting Conservatoire and a chorus provided by the Maida Vale singers.
This may all sound like a grand operatic evening but it is something rather different, primarily thanks to the staging and the performances of the nine leading performers, who, in this musical, each get at least one moment of glory.
Legendary Welsh bass-baritone, Bryn Terfel makes a mean, brooding lead. He is not the most fluid of movers but acts well enough as the Demon Barber of Fleet Street, a man seeking vengeance having been wrongly convicted of murder and shipped to Australia. His speech early on disappears under the music but he can certainly sing and does not overwhelm his partners, though whether he really needs a microphone might be a matter for debate.
The Demon's leading lady is a comical piemaker played by Maria Friedman looking like a tiny Minnie Mouse. Her business is ailing until the new lodger begins to supply her with the freshest meat in Fleet Street. She shares several duets with Terfel and the couple balance each other well.
All roads to vengeance lead to the evil Judge Turpin played by Philip Quast, most recently seen playing Juan Peron in Evita and now getting a couple of great opportunities to match voices with Terfel. Turpin has not only left Todd's wife a fallen woman but also taken the barber's daughter as a ward and prospective wife.
This sweet innocent is played by the delightful Emma Williams. She is saved by her old dad with great assistance from recent Joseph contender, Daniel Boys as Anthony Hope. The fresh-faced young beau is a good-hearted sailor with a lovely voice, not the author who penned The Prisoner of Zenda.
The young sweethearts eventually come together after the Judge follows most of the rest of the participants under Sweeney Todd's literally cut-throat razor.
Sondheim's lyrics are given great wit in a humorous evening that also features Daniel Evans as a very effective Toby, the backward boy who works in the pie shop having been rescued from the clutches of a barber-ic charlatan who dressed him like a failed heavy metal star.
As one would expect at this venue, the music and singing are divine and the staging is simple but extremely effective. It helps that Sweeney Todd's recurring theme tune is catchy and so are several others, particularly the lovers' duet in which they exchange vows to "Marry on Sunday".
Were their business not outlawed, the ticket touts could do worse than spend a few nights on the South Bank, as this wonderful evening would surely make them rich, such should be the demand to see this heady mix of concert, opera and musical, not to mention Bryn Terfel.
Reviewer: Philip Fisher