Afterlife
Michael Frayn
RNT Lyttelton Theatre
(2008)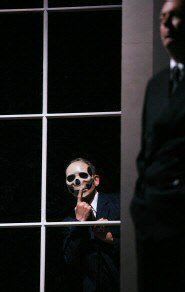 Michael Frayn is undoubtedly the most versatile playwright currently working, as well as an essayist and novelist of the highest quality.
He is a pre-eminent translator and adapter of Chekhov, penned Noises Off (surely the best British farce of the second half of the 20th century) and more recently has taken to writing fictionalised biographies of European characters who are little known in the United Kingdom.
Max Reinhardt, the subject of Afterlife, is played impeccably by Frayn favourite Roger Allam, who is particularly good at portraying reflective moments of despair.
He was, like his creator (although that is not quite the word), a polymath with a love of life. Whether a straight retelling of his story would have made entertaining theatre could be debatable. However, Frayn takes no chances in a thoroughly entertaining 2½ hour tragicomedy that looks fantastic on the Lyttelton stage.
In part, this is thanks to the efforts of designer Peter Davison who lulls us with some bland looking stairs that are subsequently embellished by marvellous not-marble columns and a spectacular living room centrepiece, which fly in right on cue.
Davison has brought to the stage Schloss Leopoldskron, the literally palatial home that is as symbolically larger-than-life as the man who lived there with his beautiful Aryan mistress, Abigail Cruttenden's Helene, and also cleverly creates murmurs of the American cities to which he is ultimately banished.
For those that have never heard of Max Reinhardt, he was an Austrian Jew who made his name as a theatre director and impresario during the years of the Depression (or in common parlance Credit Crunch gone seriously wrong) and then the rise of the Nazis, at whose hands he eventually suffered but not nearly as much as many of his co-religionists.
Where the writer and his regular director Michael Blakemore have scored is in restaging Reinhardt's life from the perspective of perhaps his greatest invention, Everyman.
In this way, Reinhardt's life is refocused through the kind of mediaeval mystery play with which he wowed Salzburg, and later the world. This gives the playwright scope to look at his subject not only as Everyman but also through the eyes of "Poor Neighbour" and the comic-sinister Death.
In some ways, if he were not a figure drawn from history, this larger-than-life character would seem unbelievable. Somehow, the son of a bankrupt corset maker rose in society to a position where he became a close confidante of The Prince Archbishop of Salzburg (David Burke), the owner of the aforementioned palace, and possibly even more impressively, the producer behind theatrical events involving casts of thousands.
Even the wealthiest citizens would blanch at their ability to fund such a lifestyle. However, with the assistance of his brother, a businessman not featured in the play, and his constantly frustrated but ever colourful right-hand man Rudolph "Katie" Kommer, humorously played by Peter Forbes, somehow, while never making ends meet, he did it least extend credit beyond credibility.
This engrossing new play works for a number of reasons. It has an entertaining central figure with a penchant for rhyming couplets and sufficient spectacle to give an impression of the Reinhardt artistic ethic. Underlying it all though is that sinister figure of Death, sometimes known as the Poor Neighbour, Friedrich Müller (David Schofield), who eventually dons Nazi uniform and chases the philosophical hero out of town.
In retrospect, despite the remarkable popularity of Noises Off and regular revivals of the best farces, perhaps Michael Frayn's greatest stage achievements have been with the serious plays, Copenhagen, Democracy and now Afterlife.
This is an ambitious work that is deliberately very theatrical. However, while it may baffle some on Broadway if it ever gets there, this lovely production should prove popular with the relatively sophisticated National Theatre audiences who love that kind of thing.
Reviewer: Philip Fisher