Emperor and Galilean
Henrik Ibsen, in a new version by Ben Power
RNT Olivier Theatre
(2011)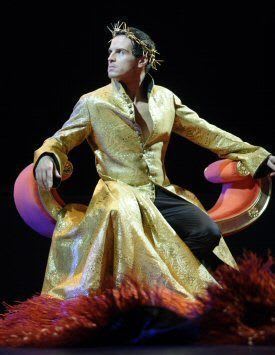 Andrew Scott can always be relied upon to produce work of the highest quality but there can be little doubt that Emperor and Galilean is his finest hour.
In fact, it is his finest 3½ hours but one soon forgets any lingering concern that this lengthy, unknown Ibsen play about the early days of Christianity in the Roman Empire could prove interminable.
That owes much to Jonathan Kent's imaginative British premiere production and Ben Power's bold modern translation. The result is a joy throughout and the time races by.
Scott plays the man destined to become the Emperor Julian. At the start, he is a self-flagellating Christian ascetic with strange tendencies but, once he starts a picaresque journey packed with Ibsenite symbolism that peaks with a flaming cross, his loyalties change.
Julian is a cross between Macbeth and Caligula, with just a touch of Hitler thrown in. This man is mad as a hatter but somehow able to inspire others with his megalomania.
In this, he is led on by his guru, Ian McDiarmid's Maximus, a visionary prophet who looks like a Harry Potter wizard and becomes the equivalent of all three of Macbeth's wyrd sisters, predicting and bringing into being a period of revelry and terror.
The primary issue of the play is given away by its title. Julian must decide whether to follow a path to becoming Emperor or remain true to the teachings of the Galilean who had died less than four centuries before this sub-Shakespearean tragedy unfolds.
Julian makes his choice and, in doing so, becomes a perverted Christ-figure in a bacchanalian revel, worshipping Helios the Sun God while clad in gold cape and more significantly, crown of glistering thorns.
Even though this play is part of the Travelex £12 offer, there is a cast of 50 and the Olivier revolve can rarely have had such extensive use, at one point convincingly representing a three-storey chain of caves.
In addition, there are some spectacular computer-generated graphics, which deliberately subvert time with anachronisms such as tanks and helicopters. The whole looks lavish and is consistently engrossing.
While Scott must inevitably garner most of the acting plaudits, as well as McDiarmid others make their mark to considerable effect. As Julian's trio of friends from the old days, Jamie Ballard, John Heffernan and particularly James McArdle all contribute significantly propagating differing views.
At a more august level, Genevieve O'Reilly's Helena briefly becomes the Emperor's Lady Macbeth prior to a sinister early death, while Nabil Shaban plays Emperor Constantius, a tyrant who has the good grace to die before his successor feels the need to help him on his way.
Emperor and Galilean is a marvellous achievement that could not happen without the existence of our National Theatre. While such a long running time might seem forbidding, do not be put off. It is truly compulsive viewing.
Reviewer: Philip Fisher