The Enchantment
Victoria Benedictsson, in a new version by Clare Bayley
RNT Cottesloe
(2007)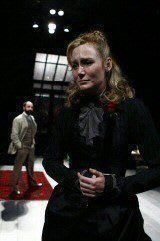 The comparisons are inevitable. Victoria Benedictsson is like a female Strindberg or Ibsen, with a strand of Sarah Kane angst thrown in. She wrote at the same time as the Nordic giants but her short career was curtailed soon after she wrote this play in 1888.
The Enchantment follows the fortunes of Swede Louise Strandberg through four acts. It starts with the pretty 32 year old lady looking decidedly unwell as she tries to recover from typhoid and ends worse, as, like her creator, she is dead in her thirties following a few brief moments of blissful happiness.
Strandberg, convincingly played by Nancy Carroll who conveys tortured unhappiness with great feeling, is an autobiographical character who gets close to explaining the fate of the writer.
This Swede has fallen amongst "peculiar specimens" of the Parisian art world. Her recovery from illness is aided by a team of friends led by Niamh Cusack's equally unhappy Erna Wallden. The source of their mutual discomfort is an opinionated, self-obsessed sculptor.
Zubin Varla makes the famed Gustave Alland a rather glum egotist who lacks personality yet swallows up women by the dozen, hardly noticing the despair that he causes and seemingly almost proud of the destruction that he leaves in the wake of his sexual bullying.
Mademoiselle Strandberg is helplessly pinned like a beautiful butterfly by his charm but seems deliriously happy to be this man's muse and plaything. Having been there before, Erna Wallden does her best to release her friend but can do nothing in the face of this Svengali and Louise's blind faith in the power of love.
Paul Miller's production is played in the round with attractive period costumes and an unusual musical trio - harp, cello and flute - is slow-paced and takes time to get going in an overly wordy first half. It greatly benefits from a post-interval comic interlude in Stockholm, initiated by Marlene Sidaway as a comic servant who passes the baton to a dim candidate for Louise's brother and her pushy mother, the latter played most amusingly by Judith Coke.
The idea that Patrick Drury's boring bank manager, fully twenty years her senior could be a tempting husband is dismissed out of hand and a return to Paris and Alland becomes inevitable.
From that point on, the rollercoaster ride to suicide is gripping, to the point where even the cause of the problem cannot save his victim and seems genuinely affected by her death.
With Victoria Benedictsson's history and the connection with the writers of her time, The Enchantment becomes an important historical document. It also offers a glimpse of a writer who might be renowned as a feminist icon today had she survived.
Reviewer: Philip Fisher