Great Expectations
Charles Dickens; adapted by Nick Ormerod and Declan Donnellan
Royal Shakespeare Company
Royal Shakespeare Theatre, Stratford
(2005)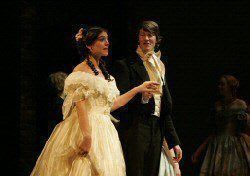 When the Royal Shakespeare Company commissioned Nick Ormerod and Declan Donnellan, the joint artistic directors of theatre company Cheek By Jowl, to come up with a new adaptation of Charles Dickens' least sentimental love story, they had every reason to expect great things. Donnellan had directed The School For Scandal for the RSC which Ormerod designed while Donnellan also opened the company's academy in 2003 with King Lear.
I doubt if the RSC are having second thoughts about calling in this duo because they're presenting a slick, classy production. It'll delight theatregoers who know intimately what happens to social climber Pip as well as those who are newcomers to this moralizing tale.
The success of this version of Great Expectations is its simplicity. Ormerod uses a bare set, with the actors bringing on scenery to change the setting which is quickly transformed from the upstairs rooms at Miss Haversham's house to a solicitor's office to the street.
Most of the actors are on stage throughout, taking away the bareness of the large stage and driving the action forwards by sharing the narration between them. They also react to what's going on around them, ensuring that the pace is maintained even when the script becomes wordy.
It's a huge production, with a cast of 21 and a live band of 16 musicians. Most of them don't disappoint.
Samuel Roukin is a confident, upright Pip whose complex character is fully developed as he comes to realise society's values aren't all they seem. Although Dickens portrays him as a flawed hero, we find sympathy in Roukin's character who doesn't whinge excessively despite being unhappy most of the time.
Sian Phillips expertly conveys Miss Haversham as a vengeful, bitter old woman who never recovers from the humiliation of being jilted and having her money embezzled on the day of her wedding.
There are also strong performances from Richard Bremmer as the forthright, wise lawyer Jaggers and Jo Woodcock as the teasing young Estella.
However, I felt Neve McIntosh as the older Estella showed only anger towards Pip rather than an element of coldness or frigidity. And Roger Sloman's convict Magwitch didn't appear frightening enough when confronting young Pip in the churchyard in one of the play's first scenes.
On the whole, though, it's a sparkling production with several neat touches which lift it out of the ordinary. On one occasion, when young Pip is on the marshes, he's confronted by a cow - signified by one actor with the animal's head and another with a flicking tail. So simple yet so effective.
Ever since Michael Boyd took over at the RSC, people go to Stratford expecting great things. The quality of productions has improved markedly over the past couple of years; Great Expectations won't do anything to harm the reputation of either the RSC or Cheek By Jowl.
"Great Expectations" runs until February 4th
Reviewer: Steve Orme