Matilda the Musical
Based on the novel by Roald Dahl, book by Dennis Kelly, music and lyrics by Tim Minchin
Royal Shakespeare Company
Cambridge Theatre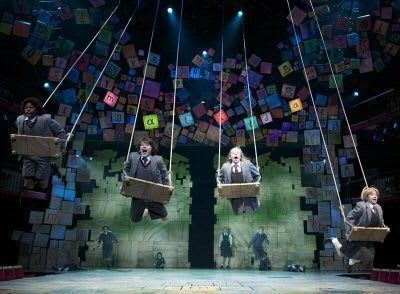 Though hardly renowned for the genre, the RSC gave birth to the world's longest running musical and, a quarter of a century after Les Misérables made its debut, the company might be about to repeat the trick. Matilda the Musical really is that special.
Quite what persuaded Michael Boyd to take time out from Shakespeare to commission a musical based on a much-loved children's novel by Roald Dahl is a mystery but his decision turns out to have been inspired.
In the same way that Les Mis continues to bolster the company's bank balance, this fantastically conceived new musical should do likewise for years to come.
Its appeal lies in the vision of director Matthew Warchus, which results in a remarkable congruence of separate contributions that together add up to far more than the sum of their parts.
Dahl's story is a good starting point. This author has always had the ability to entrance and engage both adults and children and the story of tiny Matilda Wormwood is a peach.
The little girl with big hair is precociously intelligent, reading Dickens before starting school, but somehow manages to be loveable with it, perhaps because she has a charming streak of naughtiness.
The heroine was played at the performance under review by Cleo Demetriou, not so much a star in the making as a ready-made star.
She overcomes every disadvantage that life can throw at her. Dad, played by Paul Kaye is a seedy second-hand car dealer, while Josie Walker's Mum is a slatternly dance fiend who enjoys a suspiciously close relationship with her cod Hispanic salsa teacher.
Home life might be bad but school is little better. The Academy to which deeply moral Matilda is sent is dominated by the manly, hammer- and little girl-throwing Miss Trunchbull, portrayed with wicked glee and considerable athleticism by Bertie Carvel.
Comfort comes in the shape of Lauren Ward's class teacher Miss Honey, whose singing lives up to her name, and the local librarian Mrs Phelps who is entranced by our heroine's storytelling and played by Melanie la Barrie.
Throughout, the story is clearly and effectively told through Dennis Kelley's book, while Tim Minchin writes really catchy tunes including the unforgettable When I Grow Up, while Miracle and Revolting Children are both also memorable. The Australian's other skill ensures that every song is packed with intelligent and frequently very witty lyrics.
This could have been a high risk project, as it relies not only on a star who is just 11 but a series of nine-strong teams of talented youngsters. The ones on display were really amazing, singing and dancing perfectly and making the very most of the sweet charms of their youngest member, on this occasion Ted Wilson playing smiling but put-upon Eric.
The drama and comedy are greatly enhanced by fantastic production qualities. Rob Howell's set is largely compiled from building blocks and books and stretches into the auditorium. Despite being busy, it somehow leaves plenty of space to enjoy Peter Darling's choreography, which is always good with the children and hits a peak as their adult counterparts move into salsa mode during Loud.
The imagination never lets up with a few magic tricks designed by the master, Paul Kieve and, towards the end, a couple of visual surprises with some computer-generated silhouettes and then a dazzling laser light show, courtesy of Hugh Vanstone.
Everybody will fall in love with Matilda, guaranteeing a West End run that could eventually begin to emulate Les Mis. There also seems little doubt that this show is destined for Broadway and beyond.
Reviewer: Philip Fisher