A Boy and His Soul
Colman Domingo
Tricycle Theatre
–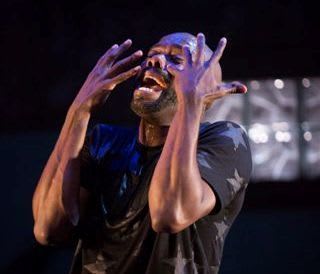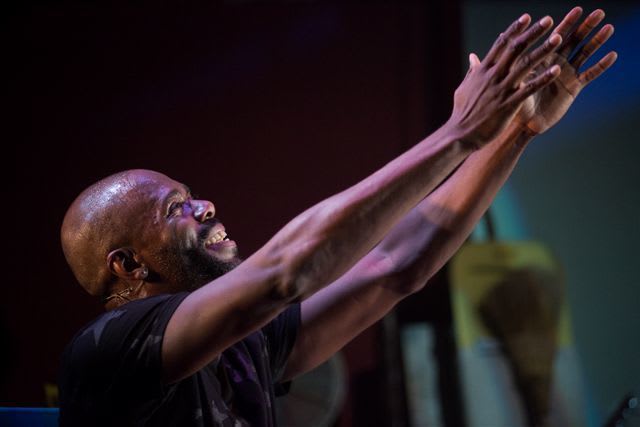 Indhu Rubasingham opens her second year at the Tricycle with this award-winning American import, a lively one-man show in which writer Colman Domingo plays his character Jay—and all the other characters Jay introduces.
It's an autobiographical piece that, judging by the dedications, draws on his own family and his memories of life at 5212 Chancellor Street in West Philadelphia. It is sparked off by clearing out the house when his parents sell it and finding piles of their (and probably his own) old vinyl in the basement. It was the soundtrack to his boyhood and his growing up.
There is nothing exceptionally original about memories of family, of growing up and coming out as gay, but here they are carried on the changing currents of the music scene from Steve Wonder and James Brown to Earth Wind and Fire, Aretha Franklin, the Supremes, Teddy Prendergrass, the Isley Brothers, the Stylistics, Smokey Robinson, Gladys Knight, the Jacksons and mom Edie and auntie Thelma's favourite Tom Jones. It is, he tells us, "the music of a happy home".
If your memory goes back that far, it could be the soundtrack of your life too and clearly was for many in the audience. "At 13," says Jay, "I was a student at the University of Marvin Gaye, the Stylistics and the Delphonics. At 15, Stacey Lattisaw, Michael Jackson and Jeffrey Osbourne. At 17, Prince, Atlantic Star, Klymaxx and Ready for the World."
What is exceptional is Domingo's full-out performance. This is a man who can make you laugh simply by changing where he looks. At first he pushes things a little too hard, but this serves as an appropriate tone for his savage, cuttingly honest portrayals of his family.
There is Clarence, his gruff, laid-back, macho pop, his supportive mom who encourages his violin playing and ballet, posturing fag-hag sister Averie, big brother Rick, infamous cousin Siferdean "that no one dare spoke a word of", Afro ladies, "very curious" friends at college who drag him off to a black gay bar, even himself aged 9. Domingo plays them all, switching unmistakably from one character to another with an instant change both physical and vocal.
It is a story whose touching moments are delivered on the edge of hilarity and performed with an energy that has sweat pouring. Director Titas Halder has created a production that entirely supports the performer. Designer Richard Kent's peeling, propped-up basement with its hoard of forgotten bits and pieces provides a neutral background from which to pick out memories, Oliver Fenwick's lighting supportive of every mood and Mike Thacker's sound design are never intrusive (and there is spot-on cueing from sound operator Rosie Horan).
For an hour and a half, Colman Domingo's heartwarming performance joyfully commemorates his family and fills the theatre with love and laughter.
Reviewer: Howard Loxton