A Common Man: The Bridge That Tom Built
Dominic Allen
The Flanagan Collective and Dominic Allen
C nova
–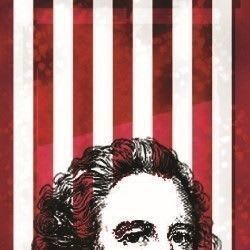 If the eighteenth century revolutionary Thomas Paine is anything like the character performed by Dominic Allen in his show A Common Man: The Bridge That Tom Built then he was not only a politically inspiring speaker but also very amusing.
The fast-paced, sixty-minute play takes us from his birthplace in England to his part in the American and French revolutions, usually irritating the powerful wherever he went.
In London, he argued for better pay and conditions for excise officers. In America, he campaigned for independence from Britain, and everywhere he went he demanded greater democracy. This included an end to slavery.
Dominic Allen's manic performance is remarkable as he becomes Benjamin Franklin, Washington and numerous other characters. The stories he tells as Paine are exciting and laced with humorous portraits of the people he met such as General (Gentleman Jim) Burgoyne who surrendered thousands of troops according to Paine to avoid unnecessary killing.
In addition to giving us a good sense of the way his ideas helped to stir up rebellion, Dominic Allen finds ways of making them seem incredibly relevant to our time. Even the language seems tuned to this year as Paine denounces the Tories.
The bridge that Tom Paine built was one that helped in the struggle for liberation. He does also try to get funding to build an iron bridge but that is another story.
Reviewer: Keith Mckenna