A Midsummer Night's Dream
William Shakespeare
Lyric Hammersmith and Filter Theatre
Lyric Hammersmith
–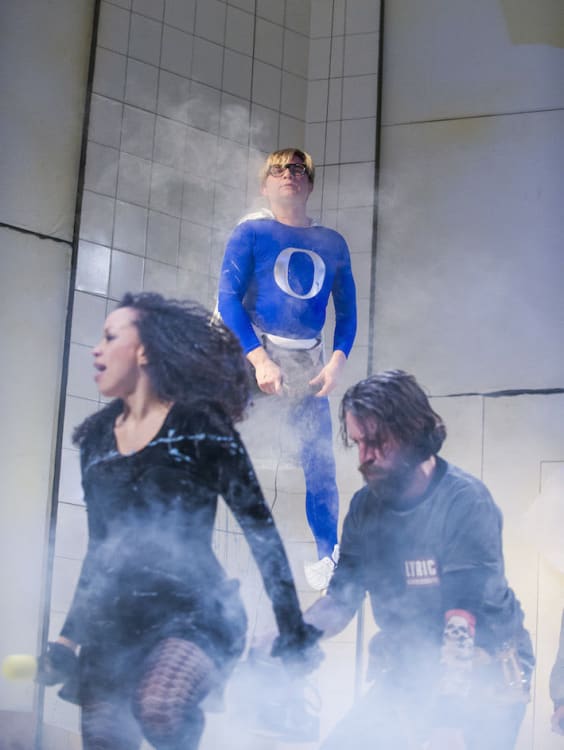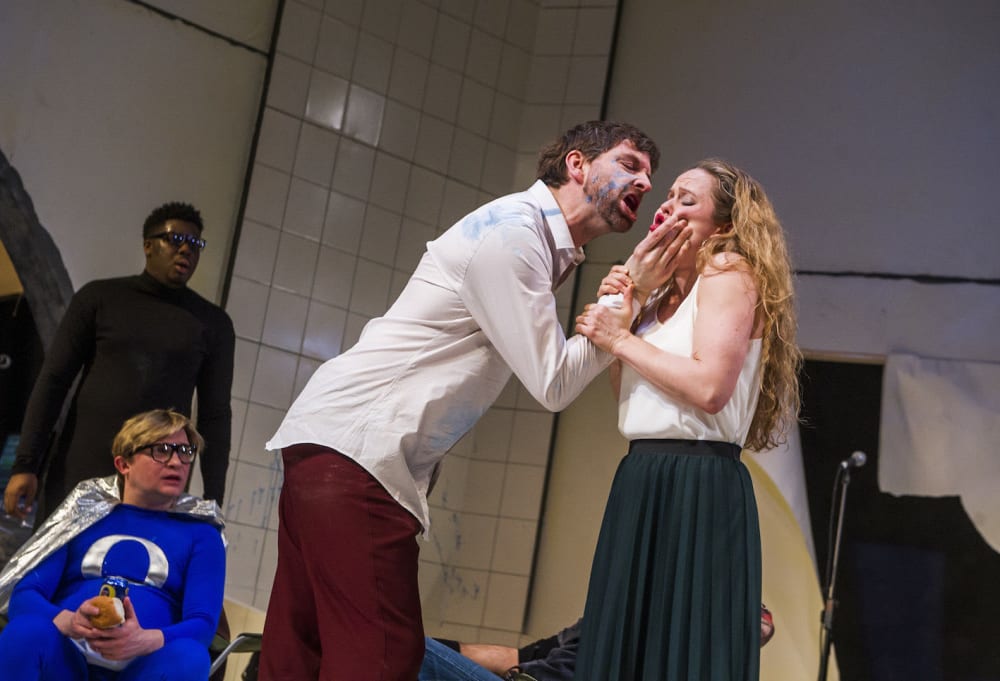 First seen here in 2012, Filter's version of the favourite fairy comedy in co-directors Sean Holmes and Stef O'Driscoll's riotous production is back at the Lyric with some changes of cast.
It's not all Shakespeare. That's to say it's not all there nor all by him, though no one is credited as co-writer. Shakespeare was used to collaboration and, though he famously warned off his clowns from hogging the scene, this is one play where he gives them a certain licence. They certainly take it!
To start with there's a prologue. Maybe these days you'd call it a warm-up. Shakespeare sometimes had a chorus and with The Taming of the Shrew a prologue to make it a play within a play. I've never seen why (though something tells me this year's Globe production may find one).
Filter gives us am-dram director Peter Quince (who also leads his band called the Mechanicals) to introduce the play. Ed Gaughan plays him, an Irish spieler who sets the play in Athens with its "thriving homosexual subculture". He promises a different theatrical luminary to guest star each night of the run as Bottom—with heavy hints that tonight he's known to film buffs for Lord of the Rings and The Matrix. This is splendid stand-up but when will the play start?
Curtain up reveals a set that echoes (remotely) the white box of Peter Brook's 1970 Dream (tattered by touring ever since) combined with a public washroom with the band under an arch and it's straight into the play proper until there's a hiatus. The star has a problem so its go get your money back time—or is it? Of course not, there's a solution—and another layer of meta-theatre.
Newcomers may not find it so easy this story of fighting fairies and muddled up lovers (and I wouldn't recommend Filter's version as a good idea for Shakespeare virgins). Old-fashioned traditionalists and text purists should avoid it if they aren't prepared to be broad-minded.
There is great fun to be had with a Goth-like Titania (Cat Simmons) and a lycra-limbed Oberon (Jonathan Broadbent), asthma challenged when excited and sometimes thinking he's Superman (in Clark Kent spectacles) though not yet a master of magic. There's a feisty collection of lovers. Clare Dunne as Helena makes an instant connection with the audience sitting on stage-edge and confiding in them.
She's partnered by John Lightbody's randy, over-egoed Lysander, and they're paired with Hammed Animashaun's Demetrius and Victoria Moseley's Hermia, all streaked with Oberon's aerosol love juice. They'll all belt a song out as readily as battle each other.
The fairies are all invisible, at times tiny, they can perch on a microphone but Titania and Oberon become full size and audience-visible, as does Ferdy Roberts's Puck. He looks like the stage carpenter, tools tucked in everywhere, a confident techie who can do almost anything, though Oberon makes him comically apoplectic when he gets things wrong.
He makes Puck a cool customer amid the chaos and could steal the show, but there is also brilliant comic playing from Andrew Buckley as Bottom (he needs no props or costume extensions to bring the house down on "I know not….").
The prose of the play has partly been modernised, Caughan's opening as Quince all additional writing, though he makes it seem entirely off the cuff, and poetry takes second place to pratfalls though it still breaks through, sometimes in song.
I'd have liked to have had more of it: the cuts are considerable, but The Dream is a play revived frequently, so there is a place for a production like this that lets its hair down so enthusiastically. It's a hoot!
Reviewer: Howard Loxton