A Tale of Two Cities
Charles Dickens, adapted for the stage by Terence Rattigan and John Gielgud
Close-Up Theatre
Kings Head Theatre
–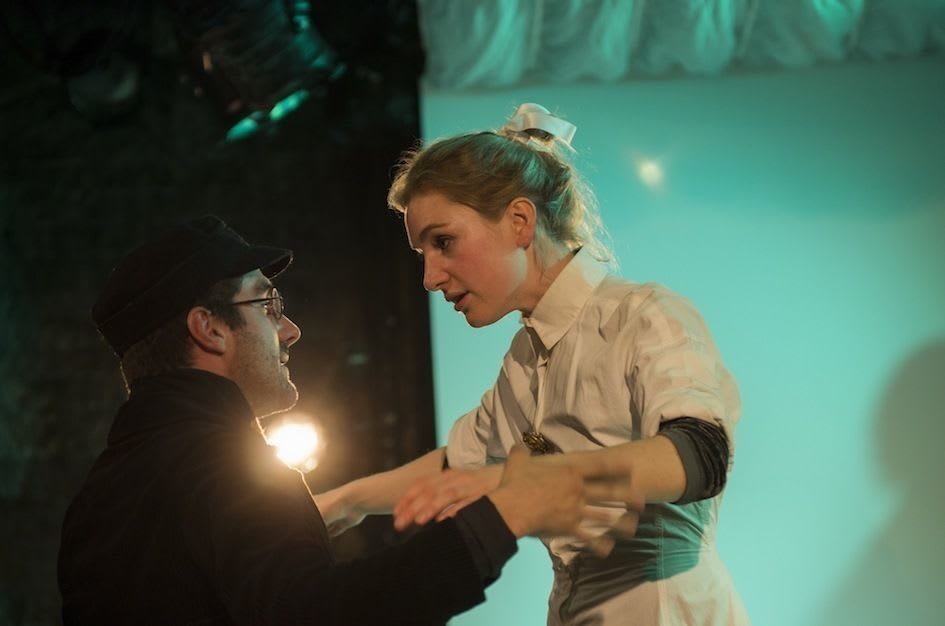 "It was the best of plays, it was the worst of plays"—it is tempting to mimic the opening to Dickens's blockbuster novel, and this adaptation has its good and bad points but most importantly does it work as a piece of theatre?
The answer is yes, for it is a compact and intimate piece of storytelling. It lacks romantic grandeur, but it encapsulates Dickens's tale of love and self-sacrifice in the midst of the French Revolution and presents it a vivid and engaging way.
It doesn't have the sweep of Dickens's novel and it is a very cut-down version of Rattigan and Gielgud's play which Bronson Albery planned to present in 1935 featuring Fay Compton and Martita Hunt as well as Gielgud. That production would have run for three and a half hours and used forty actors. It was aborted in deference to the wishes of Sir John Martin-Harvey who was still engaged in farewell tours of his own version.
This world première presentation must be very different from what was originally envisaged nearly 80 years ago. Director Adam Spreadbury-Maher uses his own heavily-edited version of that script which plays for an hour less and with a cast of only eight. He and his costume designer Jonathan Lipman have dressed it with a contemporary look with just a hint of eighteenth century.
Christopher Hone sets it on a simple white rostrum with a swag of white cloth overhead, a version of the cobbler's bench on which the heroine's father Dr Manette worked in Bastille cell serving as any necessary furniture. Scenes are bridged by Amy Whitehouse numbers and similar contemporary sounds.
Modern dress may put focus on story rather than pretty costume drama but if intended to emphasise a parallel with the regime change conflicts and fanaticism erupting in our daily news it fails, for there is almost nothing to give any political context.
Sidney Carton, the clever advocate who falls in love with Manette's daughter Lucy after defending Charles Darney, the man she has actually fallen for, on a charge of treason at the Old Bailey, is often thought of as a romantic hero. That is surely the way Martin-Harvey played him and how Gielgud would have.
Stewart Agnew, making his professional debut in the role after playing Carton at East 15 drama school in a production that was part of the development of this script, emphasises his cynical approach to life and alcohol addiction. He may not believe in himself but he upholds justice. It is an interesting debut. He is less successful doubling the sadistic aristocrat St Evremonde, camply flouncing around in an embroidered dressing gown with a pierced navel; it is a very clichéd concept of the warped and wicked.
Nicholas Bishop as schoolteacher Darnay (in reality St Evremonde's nephew who has rejected his rank and family) does not get much chance to develop the character. There are no long speeches in this adaptation and little chance for him to reveal the ideas and emotions which would make him interesting. He makes a stronger impression as M. Defarge, the revolutionary who initially rescues Dr Manette.
The doctor is played by John Hodgkinson who nicely handles his mental retreats into cobbling, Giles Stoakley is suitably sinister as the unpleasant exploitive Basard and Paul Beech is perfect as bank employee Jarvis Lorry, the Manettes' kindly friend.
Jennie Gruner gives Lucy charm and a sweet disposition without allowing sentimentality to intrude. Shelley Lang as Madame Lefarge, clicking codes into her knitting to record the names of doomed aristos, gets little chance to establish her revolutionary credentials but Flaminia Cinque has a fine time drawing the humour from Lucie's lady companion Miss Pross.
Both actresses double other roles, often in travestie, including Cinque boldly playing the self-loving lawyer Stryver who at one point turns up all bling in a gold shirt trying to dazzle and intending to propose to Lucie.
This adaptation seems to telescope the action, which in the book takes place over many years, but with episodes and characters omitted it tightens the story and probably helps the impact of this simple but often imaginative staging.
Reviewer: Howard Loxton