Ain't Misbehavin'
Murray Horowitz and Richard Maltby Jr.
Bill Kenwright and Paul Taylor Mills present a Mercury Theatre Colchester production in association with Tamasha Theatre Company
Southwark Playhouse (The Large)
–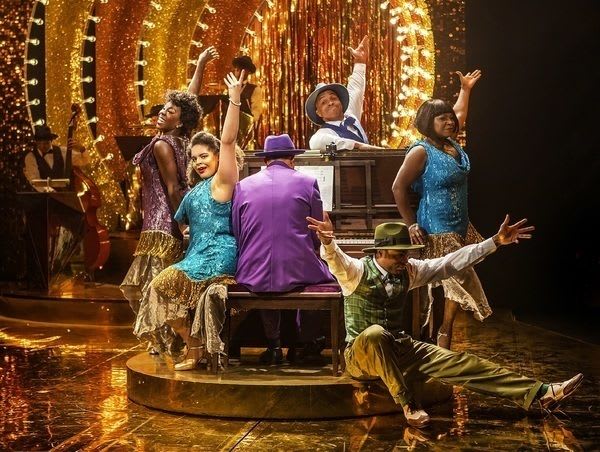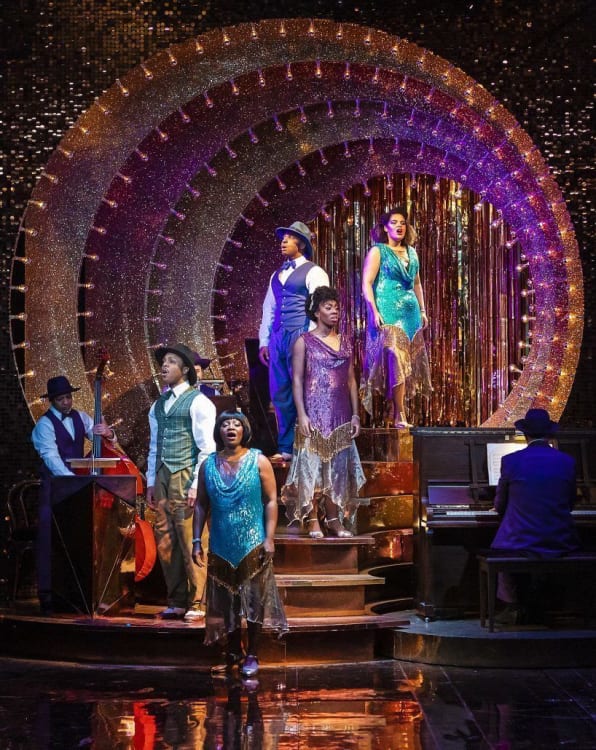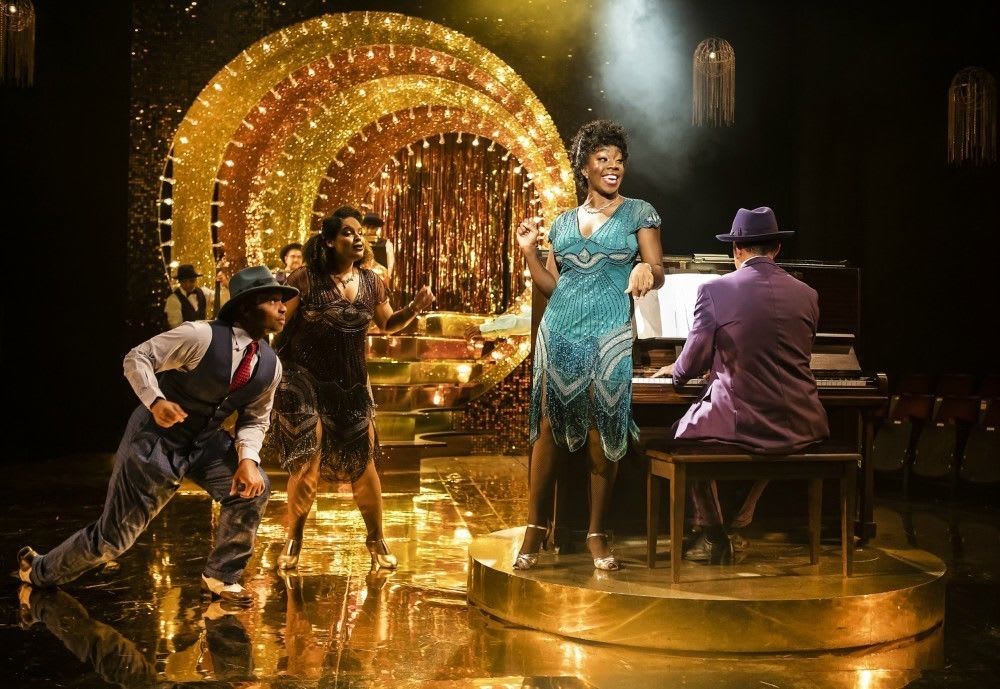 Ain't Misbehavin' is a vibrant, feelgood celebration of music that was written and/or performed by the legendary jazz pianist Thomas (Fats) Waller. He wasn't yet 40 when he died in 1943 but over 30 songs in this show the scale of his output and include such familiar numbers as the title song and "Honeysuckle Rose".
This isn't a book musical nor a biography. It's about the music not the man, the pianist leading the fine band looks nothing like the 21 stone Waller. There is no through storyline—each number tells its own—and almost no dialogue, but it's a glittering and glorious evocation of the spirit of the Harlem Renaissance and the clubs he performed in.
Designer takis provides a sparkling setting with a shiny copper floor and staircase leading into a cave mouth of bright lights and dresses the cast in appropriate period with bugle beaded dresses that shimmer under James Whiteside's lighting, which becomes part of the performance.
There is a band and a cast that live up to the setting. They handle Strictly professional Oti Mabuse's choreography with an exuberance that takes skill for granted. Debut director Tyrone Huntley ensures each performer is given a well-defined personality with lively interaction between them and an extra layer of characterisation to match individual numbers.
These are five accomplished artistes: spirited performers with expressive faces, nimble feet and versatile voices that match the songs' variety. From the start, Wayne Robinson sets the standard, leaping with kangaroo agility, but his colleagues soon match it from Lindy hop to jitterbug and shimmy and shaking. With 32 numbers packed into the programme, it is non-stop entertainment.
Adrian Hansel is in his element with the ladies in "Lounging at the Waldorf" while Landi Oshinowo and Renée Lamb give a knowingly modern edge to "Find Out What They Like (And Give It 'Em)" and Carly Mercedes Dyer slyly sings "Keepin' Out of Mischief Now". In contrast to the hilarious "Your Feet's Too Big" or the Sisters' sassy "When the Nylons Bloom Again", there's the darker mood of Wayne Robinson's addict in "The Viper Drag" with "Black and Blue" one of the best songs of the night in its treatment of racism.
The first act seems over in no time and the end leaves you wanting for more after two hours of exuberant dancing and singing from a cast that is powered by some new kind of energy. You can't always follow the lyrics but it sounds and feels so good that you can forgive any lack of clarity and get on with enjoying it.
Reviewer: Howard Loxton