Akhnaten
Philip Glass
English National Opera
The Coliseum
–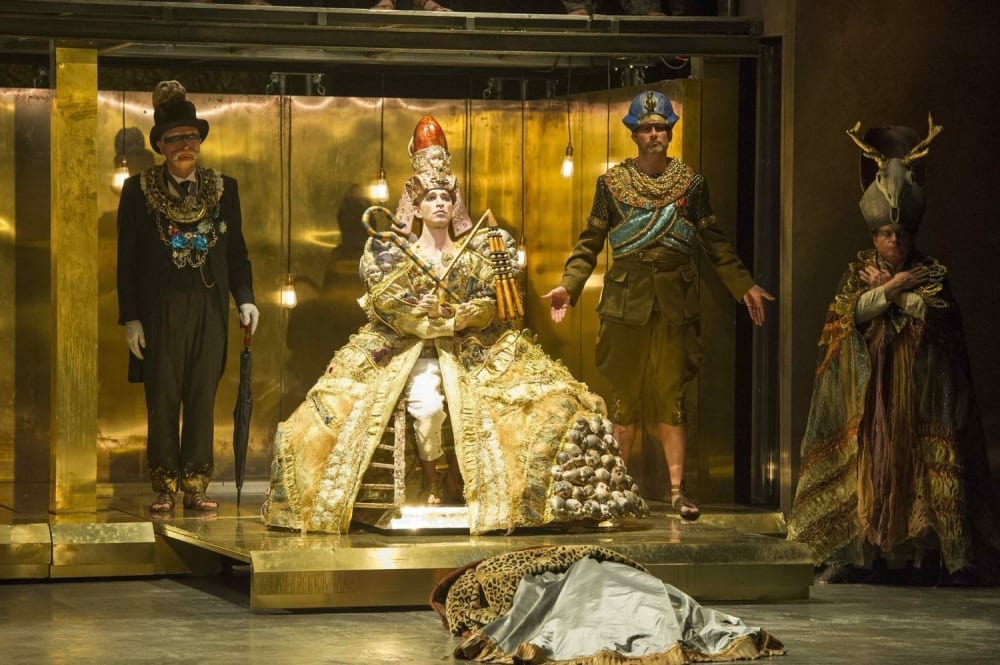 Phelim McDermott directs a new production of Akhnaten, the story of a radical Pharaoh. In an outstanding combination of musical prowess, exquisite design and arresting direction, ENO's latest staging of Philip Glass opera is a jewel in its crown.
ENO is no stranger to this minimalist composer's work—Akhnaten was given its UK première at the Coliseum in 1985. It's also not Phelim McDermott's (director) and Improbable's first outing at the Coliseum, having collaborated with the ENO on two other Glass operas, Satyagraha and The Perfect American.
It is the first time that they throw balls into the equation—literally. The Gandini Juggling Company joins the action, and this production worships all things spherical. Although I'm initially sceptical the juggling proves no weak gimmick—and can be most satisfyingly tied into the pulse of the score.
McDermott, always keen to play and develop ideas, has the group transform their balls into weapons to drive out the blasphemous old preachers. With another sleight of hand, they represent the sun, the collapse of a city, juggled from the floor; endless possibilities.
Designer Tom Pye embraces warm hues of amber, gold and bronze on which a three-storey playground is constructed. Kevin Pollard's costumes appear plucked straight from the V&A, a display of glittering attention to detail in sumptuous fabrics.
This is a slow-moving piece; gently unravelling tableaux match the pace of the music. Not a traditional narrative opera, key ideas slowly develop in long scenes. With such visual splendour, these extended sections prove a delight rather than being tedious.
Under the very capable baton of Karen Kamensek, Glass's music washes over you in a wave, this pulsing form which morphs so organically into defiant climaxes and sections of subtle grace. At times, making this thickly textured rhythmic music demands so much concentration from all involved that you too are are transfixed by the performers' focus. What seemed so trance-like has now gripped you and scarcely permitted you to breathe for great swathes of time. This is balanced with some achingly beautiful music.
Anthony Roth Constanza weaves a delicate web of sound in the Akhnaten's Hymn to his new god. Despite the constant rhythmic motifs, Constanza's vocal control and McDermott's direction creates a stillness, a welcome counterpoint to the musical activity throughout the rest of the opera.
The other highlight is Nefertiti (Emma Carrington) and Akhnaten's love duet, filled with anticipation and longing as they sensuously unwrap their long robes onstage. Making her ENO debut, Carrington shows off a voice with great warmth and richness of tone—hopefully we will see far more of this mezzo-soprano.
Since the uproar over chorus pay at ENO commenced, their onstage presence has seemed stronger and more magnificently sung than ever, and Akhnatan is no exception. The excellent ensemble work will all be lost on 18 March if the ENO cannot negotiate on the proposed wage cuts. Certainly tonight's performance advertised yet again the value of the ENO's ensemble.
Reviewer: Louise Lewis