Aladdin
Susie McKenna, original music by Steven Edis
Hackney Empire
–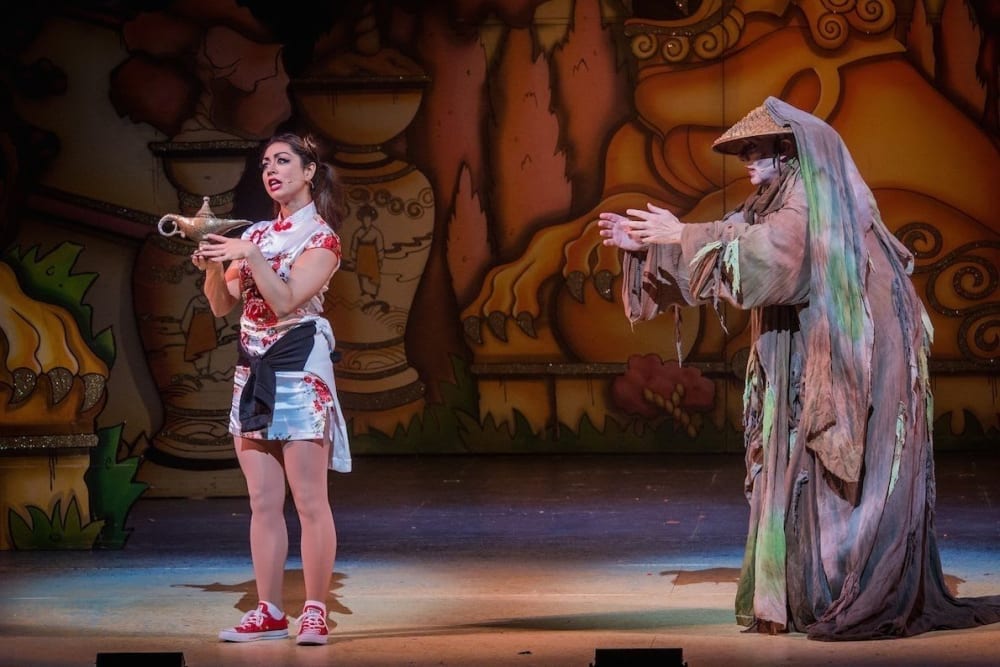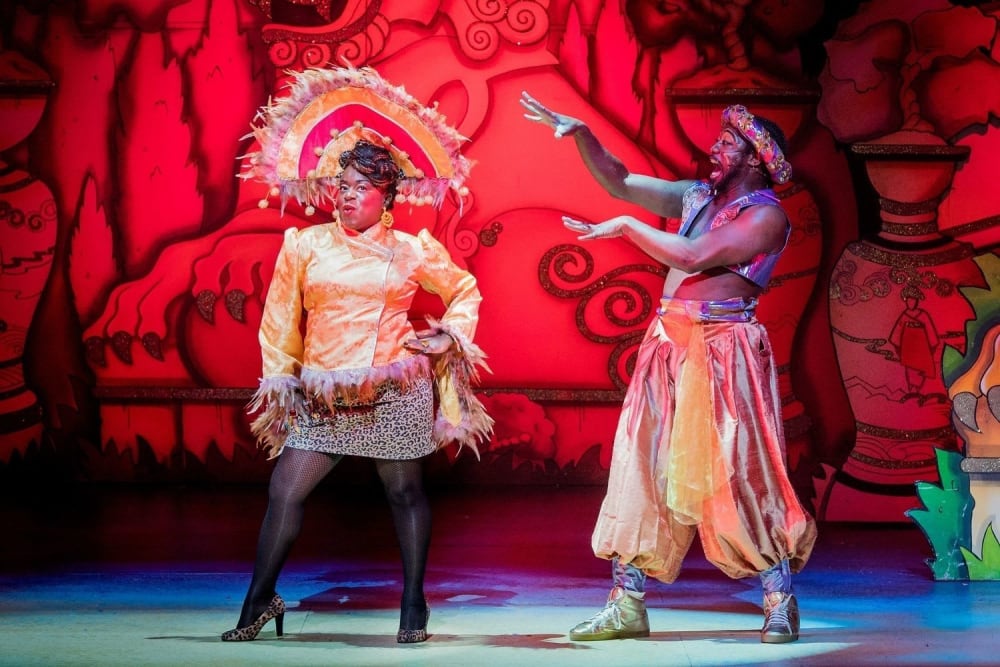 It was in 1994 that Susie McKenna did panto at Hackney Empire, though she'd been a player in pantomimes since she was 19. In 1998, she wrote and directed Dick Whittington as the theatre's first in-house panto production. She has gone on to make the Empire's panto a beacon among pantos and a celebration of what you could call our national art form that is particularly attuned to its local audience.
Twenty years on, this Aladdin doesn't disappoint. It's got colourful sets and costumes by Lotte Collett that are lovely to look at and include a spectacular flying dragon, an elephant and the goddess Gaia in the form of a giant monkey. The cast is led by a group of Hackney pantomime favourites, stars who shine in their own right but under McKenna's direction work together as a fine team.
Clive Rowe (missing last year) is back in the Dame role as Widow Twankey, reunited with Tameka Empson (taking time off from Eastenders) as the Empress of Ha-Ka-Ney and Kat B as the Genie of the Lamp and other Hackney old hands Tony Timberlake as villain Abanazar, while Sharon D Clarke (who's starring in Caroline or Change in the West End) lends her voice to the Goddess Gaia and Tony Whittle as Sergeant Dumplin is joined with newcomer Michael Lin as PC Ackee to make a pair of very funny policemen.
Gemma Sutton is a sprightly Aladdin with Julie Tammanee as his lovely Princess. He's dashing, with just one thigh slapping to follow tradition; she's delightful, but, though in theory this is their story, their roles are somewhat undeveloped. They are there to be brave and beautiful, romantic not comic—and the emphasis here is on comedy. Alim Jayda as Aladdin's brother Dishi is given much more chance to connect with the audience and seizes it. We get not one but two genies with Natasha Lewis Genie of a ring that Abanazar gives Aladdin.
Clive Rowe is a dame who only has to blink an eyelid to be funny and has every one of the audience in the palm of his hand, especially the man from the audience he picks out to help him. He has a light touch with innuendo and his timing is perfect: when the Empress snaps a fan open to reveal a message, just watch him produce a much bigger one! But he's bossy with such good humour.
The Empire has always embraced diversity both in its audience and onstage and doesn't have to worry about Peking being ethnically Chinese and totally PC, but that doesn't mean this Aladdin isn't political. The Empress has inherited an impoverished Far East End Empire: "we exited the Eastern Union, a stupid idea that made us all a bit poorer". Now she has to find a very rich prince to marry her daughter and restore their economy. It turns out the real name of Abanazar, the evil magician who wants to get his hand on the lamp, is Jacob Peas Bogg. There is serious comment on the treatment of Windrush era immigrants and a more light-hearted dig at fusion cooks who create jerk spaghetti.
Richard Roe provides lively choreography and Steven Edis's music, which incorporates some clever versions of pop numbers including Abba's "Fernando" and the Jacksons' "Can You Feel It" to a tap routine to Queen's "Don't Stop Me Now", is well played by the band under MD Mark Dickman. I wish the new lyrics had been clearer; amplification and balance could be better, though that didn't spoil the enjoyment.
Along with its professional ensemble, this spirited company also includes members from the theatre's Artist Development programme and youngsters from a local dance school (another panto tradition). Vestry School of Dance provides a delightful line-up of little pandas, including an unnamed partner for Dishi.
While keeping to tradition, including a songsheet with actions and a sweets shower, this Aladdin is of the moment and great fun. It sets a very high level for its rivals to reach for.
Reviewer: Howard Loxton