Aladdin
Written by Peter Denyer, adapted by Gerry Tebbutt
Yvonne Arnaud Theatre
Yvonne Arnaud Theatre, Guildford
–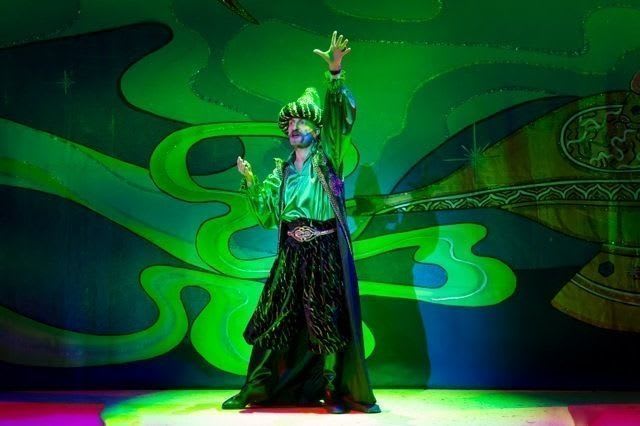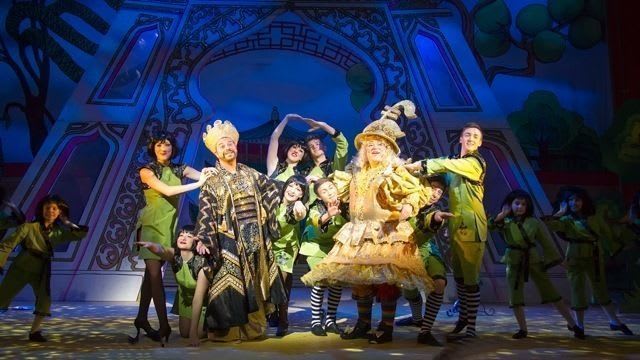 There is something very special about the Yvonne Arnaud panto. Why else would many of the cast and most of the audience return year after year to shout, cheer, heckle and sometimes try to sabotage the performers?
Kit Hesketh-Harvey as the delightfully evil Abanazar has a way of dealing with the the troublemakers, so beware. One young lady, who had been heckling him all evening, finally met her comeuppance when trying to prevent him getting back on the stage. She was physically dragged up with him and made to take a Mastermind challenge against the Princess Jasmine.
Luckily, Lucy Hope-Borne's princess is a bit of an ignoramus; the girl won and was allowed to go back to her own seat. Hope-Borne graduated only last year from the Guildford School of Acting, and proves her worth in this role giving the princess more of a really likable personality than is usual.
The story is laid out from the beginning with Abanazar planning to become Master of the World, but Susie Blake's Genie is not impressed and addresses him as "You pathetic reject from Hogwarts". Blake is a wonderful, and very funny Genie, practical, realistic, and constantly hungry, she arrives each time with a bag of food in her hand, annoyed to be missing her lunch break.
The fact that she is also Genie of the Ring, as well as of the lamp, causes some confusion when Aladdin tries to bring up both of them at the same time and Blake has to quietly explain about 'character share' and 'the recession', with the audience thoroughly enjoying the joke.
There is music and dancing galore, from the colourful opening number danced and sung superbly by the ensemble to the rousing, energetic "Guildford Style Dance" which had almost everyone on their feet unable to resist joining in, and "I Can Hear The Bells" is sung surprisingly touchingly by Royce Mills's Widow Twankey and Peter Gordon's Emperor of China.
We are now enjoying the very versatile Mills in his tenth Yvonne Arnaud Pantomime. It would not be the same without him, and Eagle Radio's Peter Gordon, as the Emperor, is on his seventh. Although the Emperor is impoverished, Gordon believes that "modesty can be the worst form of ego" and he plays him with a majestic manner—in spite of having to use half price luncheon vouchers.
Scenery, again by Imagine Theatre, changes smoothly and unobtrusively, with a particularly well represented cave shrouded in mist giving a chillingly scary feeling of dampness and gloom, and Aladdin actually flies on his magic carpet to the awe of the children. Well it is magic!
Joe Allen, making his YA pantomime debut this year, is a cheeky, knockabout Wishee Washee and really lovely with the children, and Emma Thornett, who was Jack in last year's show, is a larger than life and very attractive Aladdin, but it is Jamie Brook as PC Pongo who gets my vote as the hero of the production. He suffers being put through a mangle, then washing machine and tumble dryer, but there's worse to come.
In the 'Twelve Days of Christmas' sketch, which is an essential each year, he is desperately trying to tidy up the ridiculous gifts for each day and is sabotaged at every turn. The act becomes funnier and funnier and degenerates into total chaos as they rush madly around to keep up with the song, flinging six rubber chickens, three cotton nightshirts and seven pairs of knickers far into the audience where Pongo has to retrieve them, helped or hindered depending on the whim of the audience members. We won't even mention the custard pies.
This, I would say, is a perfect panto for both adults and children. I was actually crying with laughter and I can heartily recommend it—with or without a child.
Reviewer: Sheila Connor