And Another Thing...
Written and performed by Johnny Vegas, Emma Fryer and Kevin Eldon
Manchester International Festival
Pavilion Theatre, Manchester
–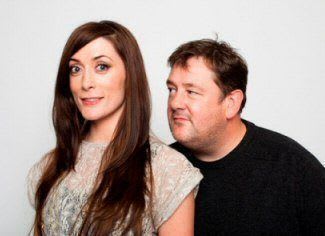 Comedian Johnny Vegas admits that he didn't have a project to announce at the MIF press launch in March, but with fellow comics Kevin Eldon and Emma Fryer he has created a technically-ambitious play set in the world of the TV shopping channel that includes a segment broadcast live on real shopping channel Ideal World.
After floor manager Andy (Eldon) has give the audience their instructions, Vegas and Fryer show us successful presenters Bryan Chadwick and Lindsay Gibson about to break the channel's sales record presenting live segments to camera and chatting between. Bryan is the old hand at this, passing on his experience to the not-too-bright but ambitious and willing-to-learn Lindsay between talking about his happy marriage and his trips out in the campervan. However the happy façade is also a sales pitch, as Lindsay is living in her dressing room at the TV station and Bryan's life is also not quite as he portrays it either. When there is a chance that Lindsay may get her own line of support underwear to promote on the channel, tensions arise between them and the truth starts to come out.
And Another Thing... itself isn't hugely original but as a whole it works well, with some great writing, occasionally clunky construction and some very funny lines. It does the comedy with a thread of tragedy running through it very well indeed, something that has entered into some cleverly discomforting TV sitcoms such as I'm Alan Partridge, in which Eldon appeared, although the ending doesn't quite work and is a little drawn out. What it doesn't do is make fun of shopping channels or their presenters, which would be very easy to do and would struggle to sustain a 75-minute play.
While there are a few segments delivered to camera, only one actually goes out over the air. In some ways it is the least successful part for the live audience as the cameras obstruct their view of the actors and the TV monitors, really only there to prove it is being broadcast, exhibit that disturbing digital TV delay. However the "liveness" creates a palpable tension in the audience as, while to the viewer at home this looks like a real sales pitch that happens to feature Johnny Vegas, to the theatre audience things are said that relate very closely to what has just been said off-air. It's not the first time I've seen a TV presenter sweating about what Johnny Vegas is going to say next—Stephen Fry has real fear in his eyes whenever he appears on QI—but here it is used brilliantly for dramatic effect.
While there was a small amount of stammering over lines on this opening night, generally the performances are excellent, but Fryer stands out for portraying what appears at first to be a caricature of an air-headed young TV presenter but who later has what amounts to a breakdown in front of us.
While And Another Thing... is not perfect as a play, the comedy is very funny, there is some real sadness running through it all that comes across very well and the unusual part of the production is undoubtedly a gimmick but it does work extremely well to ramp up the tension of a particular moment far more than would have been possible if the scene was just played to the theatre audience. All-in-all a very entertaining 75 minutes for those lucky enough to get a ticket.
Running to 17 July 2011
Reviewer: David Chadderton