Armistead Maupin's Tales of the City, The Musical
Libretto by Jeff Whitty, Music and Lyrics by Jake Shears and John Garden, Based on Armistead Maupin's Tales of the City and More Tales of the City
American Conservatory Theater
ACT's Geary Theater, San Francisco
–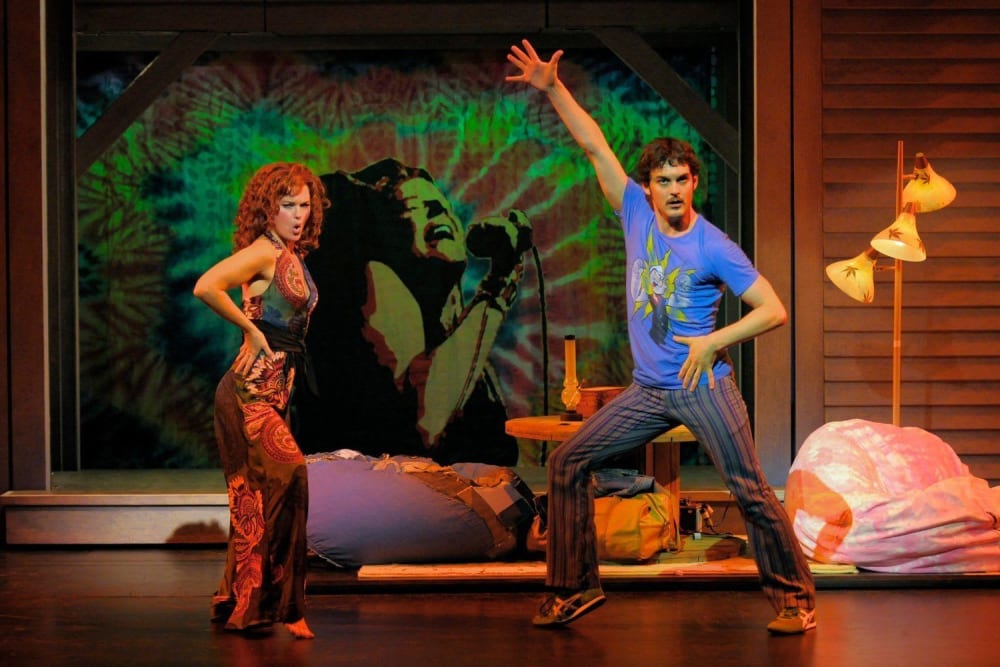 He may not quite be able to compete with the literary expertise of the Anthonys, Trollope or Powell, but Armistead Maupin has penned one of the most memorable and likeable novel cycles of all time.
Tales of the City eventually stretched to nine novels, documenting the lives and loves of genuinely eccentric San Francisco folk commencing in 1976, when this musical based on the first two is set. Given their colourful and melodramatic nature, they make good material for a 2½-hour-long musical and the team at American Conservatory Theater did the sequence proud when they commissioned a production that opened almost exactly 10 years ago.
Using the inspiration of the novelist, librettist Jeff Whitty, best known for Avenue Q, and musicians Jake Shears and John Garden from Scissor Sisters have created an unforgettable evening. Director Jason Moore was also given the budget to put on a large-cast production led by a team of impressive actors.
The opening sees Betsy Wolfe's gauche Mary Ann Singleton arriving from Cleveland and having her eyes immediately opened to the joys of pre-AIDS San Francisco, the city of love. Much more by luck than judgement, she is effectively adopted as one of the "children" of mysterious but affectionate Anna Madrigal, deftly played by Judy Kaye.
The young woman slowly relaxes into city life and employment as a secretary in the days when sexism was still de rigueur. She is helped by a series of hapless individuals, each seeking love, happiness and identity but more commonly finding dead ends. In the foreground are gay Michael "Mouse" Tolliver and constantly high advertising executive Mona Ramsay, respectively portrayed by Wesley Taylor and Mary Birdsong.
The dramas that this crew and their friends fall into throughout the playing time could keep soap opera audiences happy for days but, even at its most eccentric, this show is always underpinned by great heart and soul so that it eventually becomes a tearjerker.
For a musical, it is also only too willing to address real-life issues including rejection, blackmail, marital disharmony, loneliness, sexual freedoms of every type and, years ahead of its time, the difficulties faced by the transgender community. However, amidst the seriousness there is also much fun and laughter, not to mention an impressionistic vision of the hippie city that was San Francisco in those innocent days almost half a century ago.
The music, which often has the feel of '70s disco as its underlying base, is always geared to complementing and advancing the story, which is welcome. Most of the best songs come when characters feel the need to bare their souls with Anna, Mouse and Mary Ann all doing so with heart-breaking eloquence at the most stressful moments.
The show itself was a little rough around the edges, while the recording was originally made for archival purposes and therefore lacks the sharpness and detailed multi-camera work that has become so familiar in recent months, but these are minor quibbles about a joyous experience.
For some reason, this video première is only running for one week, but anyone who loves a topsy-turvy but heart-warming story and / or a good musical is strongly urged to catch it during this brief run.
Reviewer: Philip Fisher