Aspects of Love
Based on the novel by david Garnett, with music by Andrew Lloyd Webber & lyrics by Don Black and Charles Hart
Hope Mill Theatre and Aria Entertainment
Hope Mill Theatre
–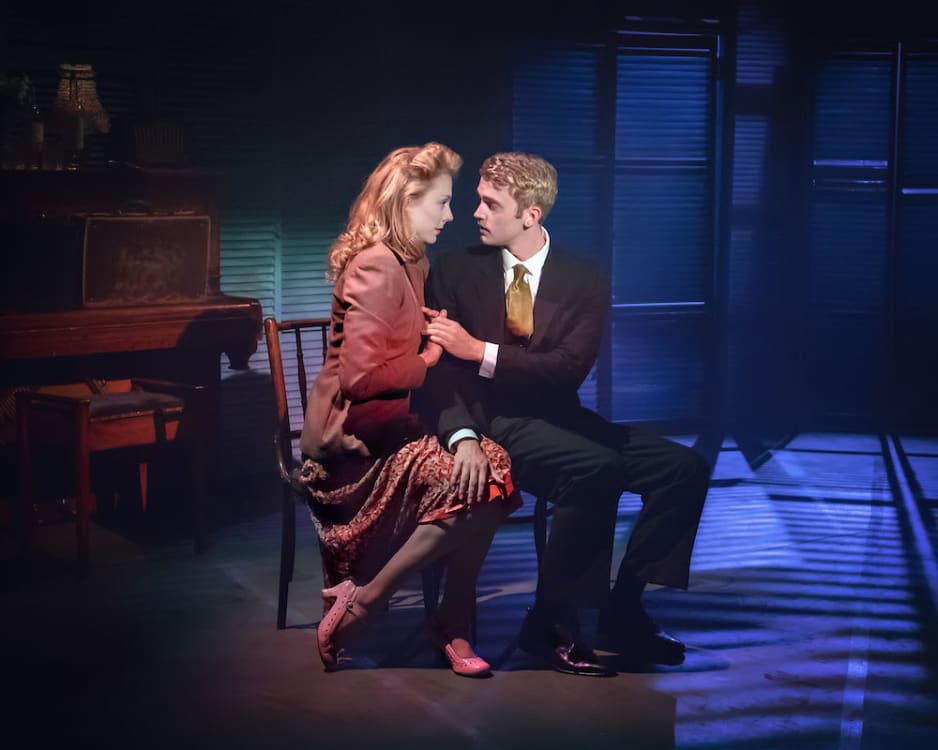 Hope Mill continues its collaboration with Aria with a revival of one of the least-known shows from perhaps musical theatre's most famous living composer.
Aspects of Love begins with the show's only popular hit, "Love Changes Everything", but, like "Memory" from Cats, it is more of a returning theme than a standalone song in the show itself. In post-war France, Alex Dillingham (Felix Moss), a shy, 17-year-old Englishman, is besotted with older French actress Rose Vibert (Kelly Price) and meets her after a performance of Ibsen's The Master Builder. He invites her up to his Uncle's villa in Pau, overlooking the Pyrenees, and for some reason she agrees.
Uncle George (Jerome Pradon) leaves his Italian sculptress partner Guilietta (Kimberley Blake) at his Paris flat to see his nephew, and he also falls for Rose. Two years later, after Alex has returned to England to complete his National Service, he searches for Rose and is surprised where he eventually finds her (I'm sure you won't be). After one of the more melodramatic moments of the show (there are a few) involving a gun going off, we skip twelve years to when Alex returns to find Rose has a daughter, Jenny (Eleanor Walsh).
Over the next couple of years, Jenny grows a little too fond of Alex and he does nothing to discourage her, so he has some hard decisions to make again.
It's a complex web of love, deceit, infidelity, heartbreak and loss—perhaps all these are the aspects of love of the title. It is told with a loose structure that works better in a novel than on stage and so it does seem too long for the story it is trying to tell (and 2 hours 40 on the seats at Hope Mill is quite punishing) but overall it is one of Lloyd Webber's more interesting works, and uncharacteristically intimate.
This intimacy works very well on the Hope Mill stage, as does the score stripped back to just two pianos (musical director Gareth Bretherton and Johnny James) plus occasional percussion (Phil Steventon). There are moments when it sounds like a bit of Phantom intrudes into the score, but then this was only a few years after that 'megamusical' opened and this complex score largely stands on its own. The story focusses mainly on the central trio, which later becomes a foursome, and the intimacy of the venue adds to the effect.
And those central performers are exceptionally good. Where the last Hope Mill / Aria collaboration on Spring Awakening had a talented and enthusiastic but inexperienced cast, these actors look as if they have (and indeed in some cases have) just stepped off a West End stage, and will no doubt be stepping back onto one very soon.
The design from Jason Denvir of large walls of louvred doors works well functionally but isn't pretty, and there are some odd decisions in the lighting (Aaron J Dootson) and occasionally the sound (Calum Robinson) that didn't work for me.
However as a whole this is a high quality production of a show that we don't often get the chance to see and another step up in the standard of production from Hope Mill.
Reviewer: David Chadderton