Aspects of Love
Music by Andrew Lloyd Webber, lyrics by Don Black and Charles Hart, book adaptation by Andrew Lloyd Webber from the novel by David Garnett
Theatre Royal, Newcastle, and touring
(2007)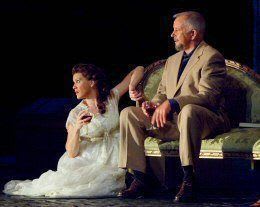 There are more than a few echoes of the Bloomsbury Set in the characters of Aspects of Love: the hedonistic lifestyle; the manipulation of others, particularly of the younger by the older; the search for self-gratification; lesbianism (although, strangely, given David Garnett's bisexuality, not homosexuality - but of course when the book was written, homosexuality was a crime and the novel was clearly to a large extent autobiographical). What this means is that none of the characters are particularly likeable, with the exception of Jenny, daughter of George Dillingham and Rose Vibert, who is delightfully played by Rachel Lynes. All are too ready to use others, whilst, in many cases, being used themselves.
It is 1947 and Alex Dillingham at 17 falls in love with actress Rose Vibert. After the failure of her performance in The Master Builder, she accepts his invitation to go away with him to his uncle's château, where they have a short romatic idyll. The uncle, George Dillingham, who is in Paris with his lover, Italian sculptress Giulietta Trapani, hears about this and returns home. Then Rose falls for him - or sees that he is a better prospect than his young nephew. Thus begins a tangled story of love.
Or of self-gratification, for this is not the normal romantic love of the musical. There is an overt sexuality which includes a topless Shona Lindsay, simulated intercourse on a table and a lesbian kiss, all of which drew gasps (and comment) from the audience, but there is no sense of true passion - lust rather than love dominates - and romance is a long way off.
The cast, led by David Essex (as laid-back as ever) as George, Matt Rawle as Alex, Shona Lindsay as Rose and Poppy Tierney as Giulietta, give their all and clearly delighted the opening night audience, but they have an almost impossible task. A succession of short scenes, interrupted by constant scene changes with company members and stage crew swinging trucks around, moving furniture and changing props, breaks the flow and there were times when it felt more like an animated song cycle than a piece of music theatre.
The supporting cast also give a good account of themselves, especially Aoiffe Nally as the Housekeeper and Philip Cox as Marcel, Rose's manager/producer.
The music is not particularly memorable - with the obvious exception of Love Changes Everything which is one of those songs which insinuates itself into your brain for days afterwards - but is pleasant enough. Definitely not one to stir the emotions.
At the Theatre Royal until 15th September, then touring to Milton Keynes, Cardiff, Aberdeen, Bradford, Stoke, Manchester, Glasgow, Wolverhampton, Plymouth, Bromley, Norwich, Bath, High Wycombe, Southampton, Edinburgh, Canterbury, Truro, Birmingham, Eastbourne and Nottingham.
Sheila Connor reviewed this production at Woking
Reviewer: Peter Lathan