Atlantic: A Scottish Story
Scott Gilmour and Claire McKenzie
Royal Conservatoire of Scotland
Assembly Hall
–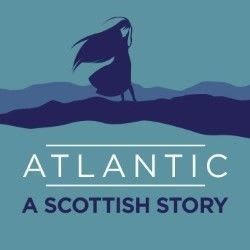 Atlantic: A Scottish Story by the Royal Conservatoire and the American Music Theatre Project is the companion piece to Atlantic: America.
It's a moving story told with a heart, soul and warmth that explores the life of the islanders on the Scottish Island of Skildir.
The young boys and girls learn about living on the Island and discover its fauna and flora and the hills.
This close-knit community have no reason to leave the safety of their homes, but Quinn, a lovely performance from Reed Lancaster, has a wanderlust to discover the world beyond the sea.
He has fallen in love with the young Evie, beautifully portrayed and sung by Caroline Lyell.
But Evie has split loyalties: should she leave her mother and brother and go with Quinn or remain on the island? It's an agonising choice and has dramatic consequences.
Quinn makes it to Dublin and eventually New York but still writes frequently to his "sidekick" Evie, who has now married and has a child but her love for Quinn remains.
It's inventively directed by Scott Gilmour with simple but effective staging using wooden pallets to create the island, the boat and other scenes.
The strong ensemble sings with power and total commitment traditional Scottish folk tunes together with haunting original songs.
The joyous choreography explodes on the stage with vigour and excitement.
Musical director Shonagh Murray and the band are a sheer delight with a captivating score.
The talented company draws the audience into this wondrous tale of love, belonging, family and tradition and I must admit that I had tears at the emotional ending. Do see both productions—you will not be disappointed.
Reviewer: Robin Strapp