BalletBoyz: Fourteen Days
Choreography by Javier de Frutos, Craig Revel Horwood, Iván Pérez, Christopher Wheeldon and Russell Maliphant; Music by Scott Walker, Charlotte Harding, Joby Talbot, Keaton Henson and Armand Amar
BalletBoyz
Sadler's Wells Theatre
–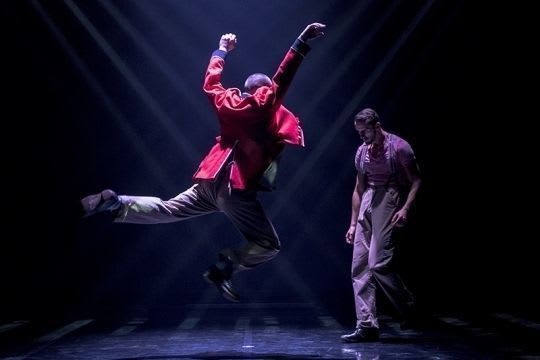 BalletBoyz William Trevitt and Michael Nunn paired four choreographs with four composers and gave them just fourteen days to come up with new ballets on the theme of balance and then added Russell Maliphant and Armand Amar's 2013 work Fallen to make up this bill, first seen last autumn.
Javier de Frutos followed the brief by setting The Title is in the Text around a giant seesaw. To music by Scott Walker that uses whispered text, rapping and sometimes shrieking female voices, first two men and then the whole company negotiate its tipping surface, sliding down its gradient, linked arms stretched to aids stability, sometimes acrobatically airborne while restricted by its narrow surface in a complex interaction of bodies that sometimes seems to be in slow motion, sometimes freezes for a moment of silence, with a hint of a sculptured memorial like that of the US Marine Corps.
You can't help think of a circus teeter board, though the seesaw doesn't throw dancers high in the air, bodies still become airborne to be caught by their colleagues and it creates a similar excitement and admiration for its skill as a circus act while still being supremely graceful. The text in the score includes the word contrapposto, an Italian art term meaning counterpoise which is what this is all about.
Iván Pérez's Human Animal, to a score by Joby Talbot played by a live orchestra seen behind a gauze, presents one dancer leading five others, circling like young colts in a riding school, pawing the ground with their hooves eager to be moving and exploring different passes, alternating patterns, little hops, going backwards, running and jumping, breaking rank and spinning with kicked extensions before returning to the circle. Danced with bare feet and bare legs below bright patterned shirts, it is delightfully joyful. Intriguingly, the music to this work was composed after the choreography, guided by a recording of the sound of the dancers' feet.
Christopher Wheldon's Us is a bare-chested duet to music by Keaton Henson that builds to romantic strings. It starts very slowly with gentle and sinuous movement, exploring balance and support between dancers who stay mainly in contact, twisting and sinuous, poetically erotic but an exploration of souls rather than sexual bodies that eventually becomes a palindrome of its opening movements before subsiding into a tranquil resolution.
Craig Revel Horwood's The Indicator Line seems to offer a narrative. To the pounding rhythms of Charlotte Harding's music, percussive and jazzy, a row of men are seen upstage in dappled light. Though they are in pink shirts, not naval uniform, as they move downstage and then seem to be wiping the floor, I though of sailors cleaning decks, of naval discipline.
With the entry of a disciplinarian red-coated officer or NCO, this becomes army, about imbalance rather than balance, as one young man is singled out for punishment, but I couldn't help thinking of Billy Budd as, with everyone else on the ground immobile, the martinet danced a duet with what seemed the young man's dead body before the others encircled him and, the redcoat flung away, he became one with the other men. After the barefooted quiet of the two preceding ballets, the clatter of feet in some moments of Andalusia zapateado, Irish dance and tap rhythms gave this a very different kind of energy.
The last two ballets are relatively short works and all four commissions come before the interval. After, it is Russell Maliphant's 2013 work Fallen to the powerful rhythms of Armand Amar's music, a company favourite. It begins with a circle of dancers surrounded by twisting bodies on the ground. In gilets that could be flak jackets, they form changing pairings that seem to present both conflict and comradeship at the same time.
One duet in particular seemed an echo of Wilfred Owen's Strange Meeting—"I am the enemy you killed, my friend"—and time seemed suspended for a sequence of lifts, falls and catches that elegiacally offer innumerable young lives lost before the dancers return to the opening circle.
Though less than two hours, including one interval, this is a very satisfying and eclectic programme that shows off a talented company: Edd Arnold, Sean Flanagan, Marc Galvez, Edward Pearce, Harry Price, Matthew Sandford, Bradley Waller and Kyle White.
Reviewer: Howard Loxton