Beauty Is Prison-Time
Zoe Mavroudi
Giant Olive
Lion and Unicorn Theatre
(2011)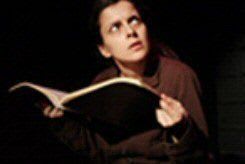 In Siberia there is a real-life women's prison called UF 91/9 where they hold an annual 'Beauty Pageant' and there, or somewhere almost identical, is where Greek actress and writer Zoe Mavroudi sets her new play, Beauty Is Prison-Time, which opened Giant Olive's Gaea Theatre Festival this week.
Prisoner Lyudmilla is sitting head-scarfed in her cell churning out army uniforms on her old-fashioned sewing machine when she begins to share her story. She has been given some fabric to make a dress for herself, a dress in which she hopes to stun them all and win the beauty contest for which the prize on offer is parole.
This is not a picture of prison life but Lyudmilla's personal story which in itself is symptomatic of the disastrous effect on many ordinary Russian lives of the replacement of the Soviet State by free-enterprise capitalism. Cleverly representing other characters in various ways, she takes us from her excited involvement with a sexy dance partner through working in his club to being forced into prostitution and then the selling of her illegitimate baby to foreigners who want a child and the situation leading to her arrest and eight year sentence.
This is a quite remarkable performance. Mavroudi has created a character with an optimistic soul who always seems to rise above disasters and disappointments except for those black moments when the past momentarily takes over her mind. Despite the harshness of its story this is a life enhancing experience to share in.
Director Terra Vandergaw's production constantly varies pace to match the need and hold attention and skilfully uses sound and lighting. It is full of inventive physical ideas, whether from director or writer/performer. A row of coats on a clothes rail become a line of dance partners in the bar where Lyudmilla is a hostess (and serves for a support for a pole dance); on lifting the sleeve of an army tunic she is making, it becomes a succession of curb-crawl customers whom she dives beneath its cloth to service. So well is the atmosphere established that a whole scene can be played in Russian in 3-D sound while the actress does a costume change behind the clothes rail.
"Beauty is Prison Time" plays in repertoire at the Lion and Unicorn Theatre, Kentish Town, until 31st August 2011. The Gaea Theatre Festival, which celebrates women actors, writers, directors and choreographers continues until November 2011.
Reviewer: Howard Loxton