Biggles Flies A Fokker Home
Dougie Blaxland
The Rondo Theatre Bath
(2011)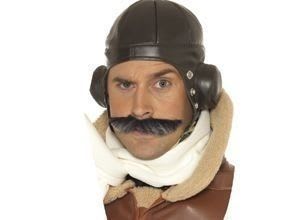 A spot-on spoof of the WE Johns novels, Biggles Flies A Fokker Home by Dougie Blaxland is a delight for all who dislike po-faced, tight-lipped political correctness. Astonishingly this is the first ever stage version of Biggles, and Live Wire Theatre's production at The Rondo Theatre Bath suggests that the ace aviator has been kept away from theatre-goers for far too long—perhaps because of the xenophobic chauvinism of Johns's original protagonists.
The key to Blaxland's success in this hilarious parody, however, is the utter absurdity of both plot and characters. For all Biggles's blustering bravado, played to perfection by Darian Nelson, he is in the end as clueless as his arch enemy Oberf&uumlaut;hrer von Spineschiller. As such, the play is a satire on the nationalistic heroism of war as opposed to a celebration of it.
Perhaps more subtle is the way in which the writer and company have dealt with the repressed homoeroticism that pervades the boys' adventure genre of the 1940s and 50s. Derek Le Page is brilliant as Algy—utterly devoted to Biggles but simultaneously unable to articulate or express the true nature of his devotion. The humour lies not in any kind of homophobia but in ridiculing an era where such feelings could not be brought out into the light.
The fact that all other characters, aside from Biggles, Algy and Ginger, are played (with consummate assurance) by Natalie Farmer is a lovely touch and reminds us throughout that this is all artifice—comic strip stuff—designed to make us laugh. Throw in the verbal dexterity of Blaxland's exceptionally witty script and the slickly choreographed movement and you have the perfect Christmas recipe for an evening's entertainment.
The cast of four maintains high energy throughout—none more so than Ed Browning as Ginger whose timing and physical movement are as precise as Algy's are contrastingly off-beat and vague.
This is the kind of theatre of deliberate and self conscious artifice that family audiences will love. Those with more high brow tastes will dislike it intensely whilst trying to ignore the side-splitting laughter around them
Until 11th December
Reviewer: Sue Gordon