Birdsong
Sebastian Faulks, adapted by Rachel Wagstaff
Comedy Theatre
(2010)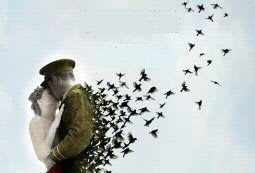 It is hard to think of any recent play that has moved me quite as much as Sir Trevor Nunn's impeccable stage version of Sebastian Faulks' Birdsong, adapted by Rachel Wagstaff.
Sir Trevor is probably the best contemporary director of big novels for theatre. With John Caird, he turned Nicholas Nickleby and Les Misérables into major stage hits for the RSC from the unlikeliest material and has now done the same with an almost equally meaty novel, Faulks' modern classic dramatising the horror and pointlessness of the Great War.
The staging by designer John Napier, based around projections by Jon Driscoll and Gemma Carrington, is what one might describe as retro-radical. It uses constantly changing projected images on a large backdrop to set scenes and allow for lightning fast interchanges.
These develop from line drawings to watercolour-style paintings and then become more graphic and much darker as the play moves from peace-time Amiens to the horrors of the trenches. They hit an unforgettable peak with an almost literally stunning moment to bring down the first act curtain.
This design concept, enhanced by an evocative soundscape, works wonders in allowing the detail of a novel, which might otherwise not hold the attention on stage, to seem designed for this medium.
The story that they illuminate starts in 1910, when young Stephen Wraysford makes a business trip to France. The orphan who starts the evening as a 20-year-old is played with great judgement and feeling throughout by silver screen Dorian Gray, Ben Barnes.
He stays with a wife-beating factory owner and his family. During a short visit, the man with the matinee idol looks quickly gets involved with a Communist revolt.
He then, in a series of erotically-charged scenes, seduces Irish screen favourite Genevieve O'Reilly as beautiful Isabelle, the lady of the house. This is not that difficult for a man who is kind and a third of the age of her brutal husband.
Along the way, Stephen also attracts the undying love and lust of her sister and step-daughter for good measure.
Throughout this early period, there are images of birds and presentiments of doom, which are soon to be proven accurate after the couple's elopement ends mysteriously and unhappily.
Suddenly, after the longer interval, we find ourselves during 1916 in the "mechanised abattoirs" of the Somme trenches with cheery Sapper Jack Firebrace, a vaudevillian a long way from home, who quickly develops an unlikely class-busting bond with Lieutenant Wraysford.
The typical Tommy is played with true British wit and grit by Lee Ross, who does a good line in pathos - and needs to amid all of the carnage- but still constantly manages to lighten the tone with his gallows humour.
The carnage of war is brilliantly brought home in scenes reminiscent of Journey's End and heightened by an anti-war (almost) soliloquy that should be required reading/viewing for all politicians with even vaguely war-like tendencies.
Gradually, what becomes obvious is that, in order to survive, men require luck but also hope for a future with the folks back home. What they don't need is generals who send lambs to their slaughter due to ineptitude that beggars belief.
After this second act, one inevitably feels a little drained but also fortified by the quality of the story and its staging.
The final act, taking us to a tear-jerking dénouement at the end of three hours, sees Stephen and Jack trapped together underground like those poor Chilean miners but without the elaborate 21st Century support structure.
This eventually leads to an ending that offers hope through reconciliation and remembrance, those immutable birds enduring all and symbolically showing man how to live in peace.
Ben Barnes and Lee Ross are both exceptional in their different ways. Genevieve O'Reilly, Nicholas Farrell doubling as the brutal French factory owner and a stiff upper lipped Scottish officer who wanders round the trenches doing a fine impression of a classics don, and Zoë Waites, playing Isabelle's lovelorn sister Jeanne, are the pick of the supporting cast.
It is really cheering to see that a West End theatre can still produce work of this quality, a situation that would not have seemed possible a couple of years ago, when it appeared that only the National and the RSC had the will or the resources to create epic new dramas.
Birdsong will become weighed down with awards and deservedly so. It should keep the Comedy Theatre filled until the New Year with its passionate re-creation of the war that should have, but failed to, end all wars.
Playing until 15 January, 2011
Reviewer: Philip Fisher