Birdsong
Sebastian Faulks adapted by Rachel Wagstaff
The Original Theatre Company
The Haymarket Basingstoke
–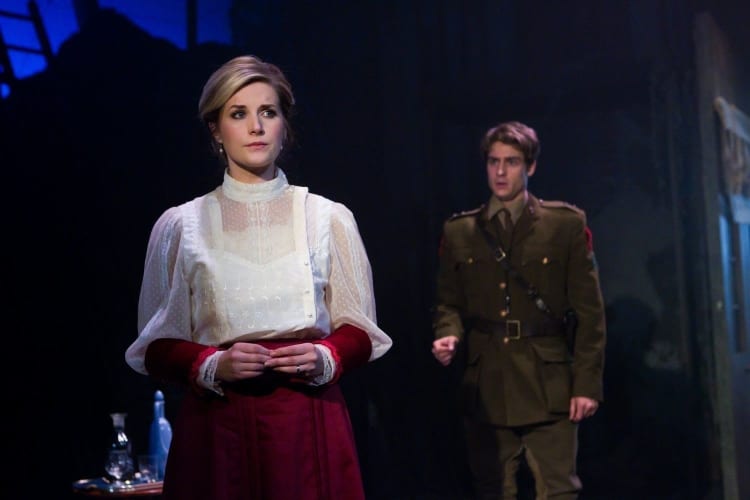 Sebastian Faulks's novel Birdsong, sensitively adapted by Rachel Wagstaff, began its national tour at The Haymarket in Basingstoke last week. It's a splendid production by The Original Theatre Company.
In this new, tighter stage version skilfully directed by Alastair Whatley, the play begins in the trenches of World War I superbly realised in Victoria Spearing's evocative, atmospheric set design with tunnel openings, barbed wire, twisted metal and a symbolic large wooden cross.
The soldiers are making the best of their lot—singing and dancing and generally fooling around with young Tipper (Charlie C Hawkins) giving a spirited rendition of "Hold Your Hand Out, Naughty Boy", a welcome diversion from the horrors of the front line.
Jonathan Smith gives a powerful performance as the young fledging officer Lt Wraysford, desperate to keep the abomination of war into some kind of human perspective.
His squad is joined by the sappers, the skilled tunnel diggers who toil underground to plant mines under the Hun's trenches led by the religious Jack Firebrace, an outstanding captivating performance from Tim Treloar, whose letters to his wife and news of his son's illness and eventual death from diphtheria bring tears to your eyes. Liam McCormick is his best mate Arthur who meets an untimely death.
The clever use of flashbacks to Amiens in 1910 introduces the Azaire family with Stephen Wraysford as a rash, headstrong 20-year-old anxious to learn about the textile trade but falling head over heels in love with his host's wife Isabelle, exquisitely played by Sarah Jayne Dunn. The stylistic love scene choreographed by Lucie Pankhurst is balletic in style and visually effective. Poppy Roe is the sympathetic supportive sister Jeanne Fourmentier who eventually brings startling, heart-rending news to Stephen.
Malcolm James is impressive as the bullying husband and is also convincing as the Scottish stoic Captain Gray and Arthur Bostrom brings a smile as the French councillor complete with faux English accent reminiscent of his role as Crabtree in 'Allo 'Allo.
As the battle of the Somme approaches, Lt Wraysford becomes more obsessed, refusing leave, and ultimately joins the 'sewer rats' in their claustrophobic tunnels with the most horrendous emotional consequences.
There is excellent support from the rest of this talented cast with first-rate solo singing from Joshua Higgott and Tim Van Eyken with Emily Stride as a striking Marguerite and Polly Hughes as the blackmailing Lisette.
Sound designer Dominic Bilkey superbly recreates the bomb explosions, machine gun fire and of course birdsong and Alex Wardle's emotive lighting is highly creative.
This poignant and powerful play is a ceaseless reminder of the horrors of war and the debt we owe to those who served and died to create a better world.
Touring until August see the Original Theatre Company's web site for details
Reviewer: Robin Strapp