Blasted
Sarah Kane
The Other Room
Porters, Cardiff
–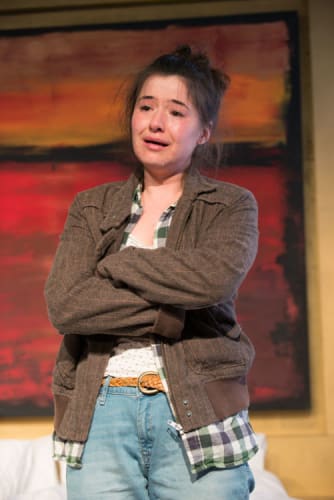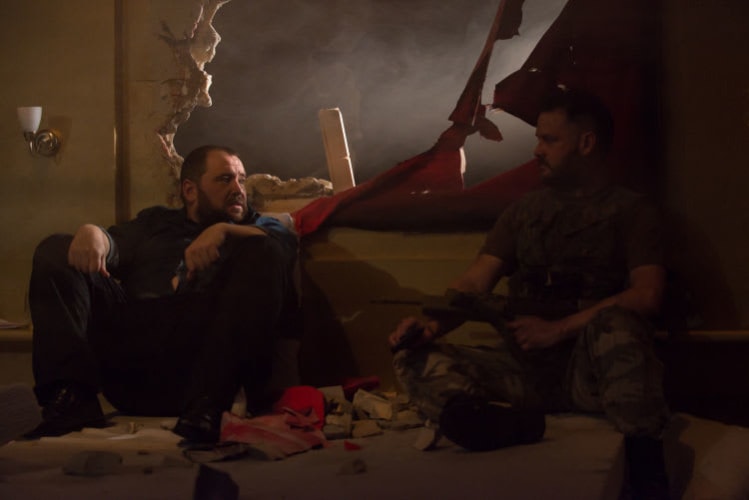 The Other Room is, potentially, a highly exciting new venture, and a long-overdue one—Cardiff's first purpose-built pub theatre.
Kate Wasserberg (formerly associate director of Clwyd Theatr Cymru) and her team have decided to start boldly; the first project in their inaugural season brings one of the most controversial plays of modern times to the Welsh capital for the first time.
Blasted has received several major revivals since it first appeared in 1995—indeed, as I write, it is also running in Sheffield under the aegis of Richard Wilson. Sadly, the late Sarah Kane's depiction of horrific events, originally redolent of conflicts in Central Africa and the former Yugoslavia, is more relevant than ever in the age of ISIS, especially since the media seems less prone than it was pre-9/11 to spare us the gruesome minutiae of battle.
The action begins in a hotel room in Leeds, to which Ian has taken his sometime girlfriend. He is a gun-toting, divorced journalist who works for the security services; bitter, bigoted and in poor shape due to an insatiable appetite for gin, his sole saving grace appears to be his avowed love for Cate. She is young, naïve, mentally unstable, prone to seizures, and sexually reluctant.
In this section of the piece, the violence is largely verbal; the atmosphere is tense, but there are moments of tenderness, and only the occasional outbreak of carnal unpleasantness. With the arrival of a soldier, we seem to be transported to a brutal parallel universe.
The hotel-room set (by Ruth Hall and Max Jones), dominated by a Rothko-esque painting in ominous red, is expertly dismantled at this point, and transformed into a war-zone; still apparently a hotel-room, but a bombed-out one in a strife-torn dystopian city.
A few weeks ago, I was watching Christian Patterson and Simon Nehan larking about in panto in Stoke-on-Trent. In Blasted, both are unrecognisably feral, as Nehan's dehumanised soldier subjects Patterson's unpleasant journo to treatment which is appallingly cruel but, sadly, not especially unusual.
The violence is rendered impressionistically rather than with Grand Guignol goriness, director Wasserberg trusting the actors to convey the horror through performance. Nick Gill's score manages to be both ambient and menacing, contributing, along with Dyfan Jones's sound design and Tom White's glitchy lighting effects, to a "we're all doomed" atmosphere.
The performances are expertly judged: Patterson almost sympathetic in his world-weary unpleasantness, and Louise Collins especially impressive in Cate's more intense moments. As the unnamed Soldier, the least-developed character, Nehan embodies nihilism with an exhausted resignation.
One gets the impression that some early critics felt that the play revelled in the violence Kane was depicting. In this production at least, the author's compassion for her traumatised characters shines through, although her tragic pessimism is inescapable.
A stressful 100-minute adventure then, rather than an entertaining one, but cast and crew are to be congratulated on their skill, adventurousness and commitment.
The venue is likeably intimate, although the site—on a main road, next door to a hotel, and not far from a fire-station—meant that there were moments of extraneous noise of the kind which is not entirely inappropriate for a play set in the midst of guerilla warfare, but sure to prove distracting should it ever stage a period piece.
If the soundproofing can be improved, and if, as seems likely, the production team continue to programme intellectually and emotionally challenging work, The Other Room is surely set to be a lively and valuable addition to the city's cultural life.
Reviewer: Othniel Smith