BLOOD
Choreography by Jean Abreu, co-commissioned by ROH2
Linbury Studio Theatre Royal Opera House
–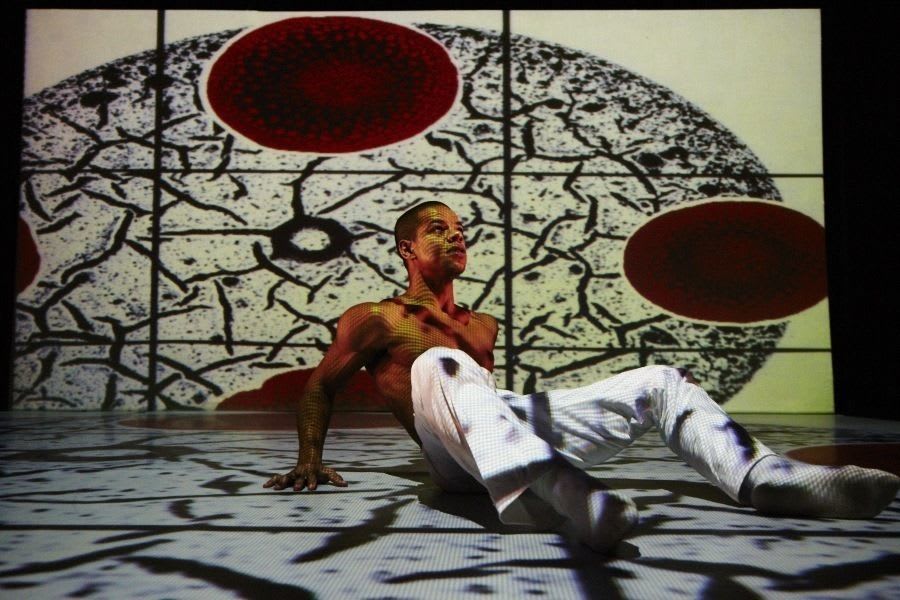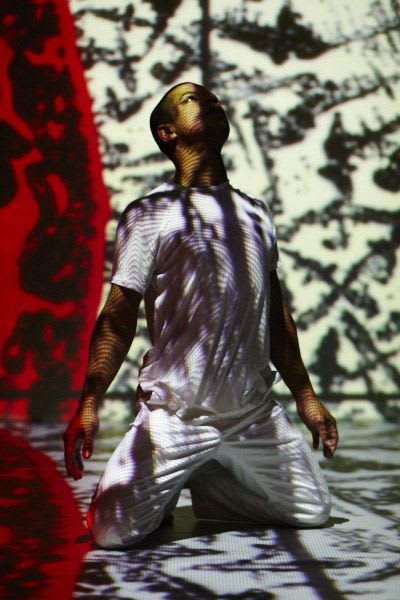 Brazilian Jean Abreu, winner of the Jerwood Choreography Award (2003), Associate Artist at the Hat Factory and The Place, Artist-in-Residence at Dance East, praised for INSIDE, his 'Edinburgh smash-hit', is new to me. His BLOOD solo promises much.
Abreu has a pleasing presence, masses of charm and cojones, big enough to get Gilbert & George on board his choreographic adventure, together with a fabulous creative crew: motion-capture (a stick-man alter-ego) and animation wizards, Italian software artists Mirko Arcese and Luca Biada; Paul Wolinski of math rock band 65daysofstatic; lighting designer Michael Mannion; and fashion designer Richard Nicholl—two sold-out evenings at the Linbury the result.
But it is a long hour, and the weakest link is Abreu's choreography. White on white, the better to absorb close-up projections of Gilbert & George's piss, shit, blood, and spunk images, his intention is to explore what it means to be alive. Sadly, Jean Abreu's BLOOD left me cold.
BLOOD may feature twenty-five images from Gilbert & George's The Fundamental Pictures, Rudimentary Pictures and New Testamental Pictures, created 1996-8—the first time, apparently, that they have allowed their art to be used in dance—but Abreu's input is lost and adrift in the special effects.
A Petrushka come to life, a new born faun, he tentatively measures the space with his body, close to the ground. He fingers his torso, his limbs. He listens, he mouths, he breathes, and finds his voice. He speaks (text is by Lootie Johansen-Bibby), he walks, slithers, slides, stands on his head. Talks about himself, his measurements, his ethnic make-up, explains his body is a machine, that he is handsome. Well, handsome is as handsome does.
He excavates his mouth, pulls out his spit. He dances a duet with a water bottle, drinks, washes the sweat off his face, spits out a fine spray. Pisses in the bottle, shakes it frothy, puts it to his cheek, dances another bottle duet, dips his finger in. Walks off. Is he missed? No. Comes back for more.
The movement vocabulary is small, repetitive, simplistic, limited. With its anatomical statistics, body facts and effluents BLOOD could be light relief in a medical student smoker or support a seminar, but in the context and history of performance art, so close to the bone in the 70s, it says very little.
Paul Wolinski's cinematic score, heavy drum and bass mixed with ambient electronica, together with Arcese and Biada's pulsating images, remind me of 60s psychedelic rock without its dynamism.
Abreu strips off his sweat-drenched clothes and joins the naked back view image of Gilbert & George looking over their shoulders. And what a body. What self-confidence. Abreu certainly has plenty of spunk even though his choreography is bloodless.
A performance art piece, on a loop in a gallery, might be just the job, to dip in and out of. It makes for restlessness in a studio theatre space. One itches to walk.
Reviewer: Vera Liber