Boy with Beer
Paul Boakye
King's Head Theatre
–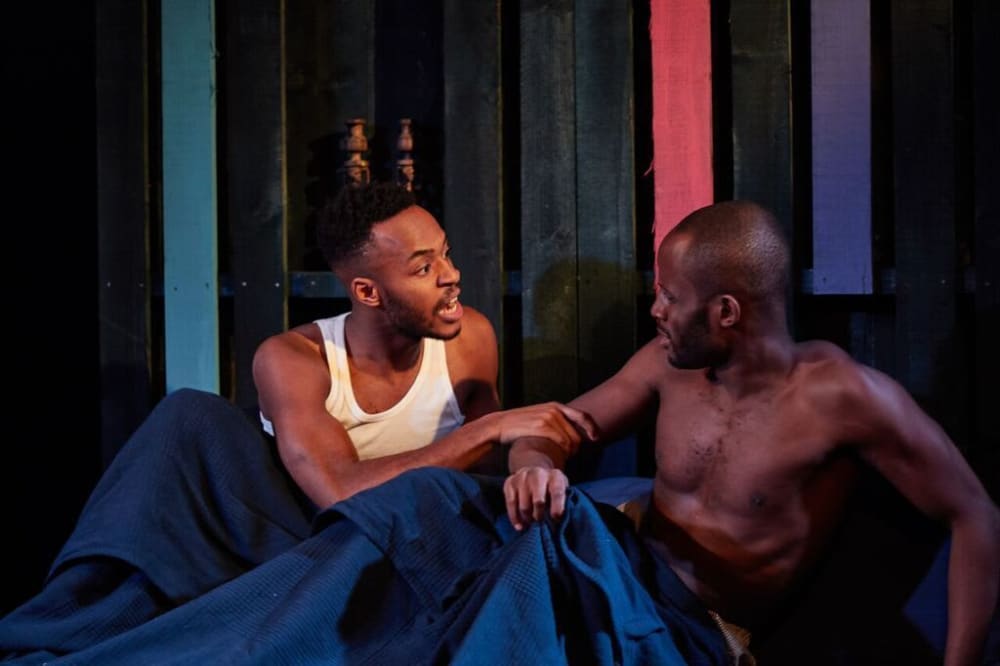 It is nearly 25 years since Paul Boakye's play premièred but, though mobile 'phones and online dating have since then introduced new ways of making contact, its picture of two black guys exploring a tentative relationship is just as relevant today.
It is delightfully honest and open, feels absolutely genuine and is beautifully played by Chin Nyenwe and Enyi Okoronkwo in Harry Mackrill simple, straightforward production.
The production adds an opening not in the original script: the moment when British West Indian Donovan catches sight of Ghanaian Karl across the darkened room, that momentary registering of interest in a Brixton club that sets everything in action. Then we are in Karl's flat as he waits for the younger man's arrival, a meal prepared and a bottle of wine just opened.
But that's not Donovan's style. They may both have sexual anticipations but he was not expecting Karl's urbane entertainment. He may seem confident and streetwise with his fast-talking bravado but he is out of his comfort zone in this nice apartment with this well-educated photographer guy who is a few years older.
Donovan flirts with everyone but gay sex for him is something furtive, not out in the open. His friends don't know about him and he's sure no batty boy, always the active one in his encounters. He's got a girlfriend with whom he lives, that makes him feel manly.
In many ways, these two seem incompatible and that first encounter gets aborted, but Donovan turns up again. The amyl nitrate-popping raver and the serious man who has just been back to Ghana to explore his own background more deeply make an unlikely couple. Across differences of attitude and culture, they get closer until Donovan seems to have moved in; but how responsible is he? Is he just exploiting Karl?
Both men have been hurt in past relationships and there are still plenty problems but they do seem to have something to offer that the other needs.
Sex is an important part this play but it's also about identity and trust—and handling AIDS. Boakye writes with sensitivity but he is never sentimental or mawkish and often very funny. The intimacy of this venue adds extra intensity but its exposure demands total honesty from the actors and with Nyenwe and Okoronkwo that is what you get in a play that packs a great deal into not much more than an hour. It is a very welcome revival. Don't miss it.
Reviewer: Howard Loxton