Breathing Corpses
Laura Wade
Royal Court Theatre Upstairs
(2005)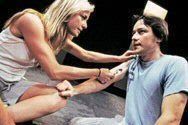 This will hardly be the only review to suggest that hot young playwright Laura Wade seems obsessed with death. Colder Than Here, which opened less than a month ago at Soho, dispassionately followed a dying woman's preparations for eternity. Breathing Corpses is an elusive tale that observes a gruesome cycle of linked deaths.
Despite Anna Mackmin's exciting direction featuring sharp scene changes, one has to concentrate hard to follow the story and this is no accident. Timelines are deliberately blurred and there are three seemingly unconnected threads of plot.
Following a blood-curdling shriek, the play opens with a long comic monologue from the very humorous Laura Elphinstone, playing a singularly unlucky teenage chambermaid who discovers (and happily chats with) the second bed-ridden corpse of her short career.
Her pivotal position in the events that follow is only explained in the final scene as the hotel-worker seems finally to have discovered the share of good luck that she usually misses out on. This comes in the form of a very live customer, complete with Porsche Boxter and sharp knife.
The second set of people work in a self-storage unit. Paul Copley and Niamh Cusack play a blissfully happy middle-aged couple for whom life changes irrevocably when they discover a rotting corpse in B16. Copley in particular is arresting when his Jim returns, four months later, a broken man who cannot even stand doors in his house and inexplicably feels responsible for the death of "B16".
The most shocking character is a horrendous toyboy (and dog) basher, Kate, played with relish by Tamzin Outhwaite. The hottest summer on record has got to her and her mood hasn't been helped by her lover's dog which has discovered a corpse with a slit throat. It takes time but the battered worm, James McAvoy's Ben, finally turns on her with fatal results. It is hard not to cheer!
This is a really intense 80 minutes within Paul Wills' cold set, as tension and confusion build to a satisfying finale. At times, it feels like a murderous jigsaw puzzle, at others more like a black comedy.
Along the way, we learn yet more of the talented Miss Wade's philosophy of death. Her men are not yet well-rounded and they always seem to be victims but her voice is special. While it may not be heard twice every month going forwards, there can be no doubt that she has a rich future in store.
This review originally appeared on Theatreworld in a slightly different version
Reviewer: Philip Fisher