Brecht: A Practical Handbook
David Zoob
Nick Hern Books
Released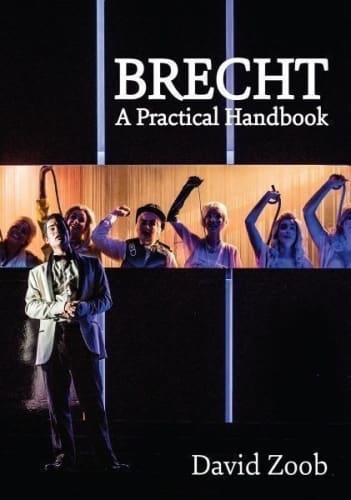 Everyone with an interest in theatre (or poetry) knows that Bertolt Brecht was a genius on multiple fronts. His plays are constantly revived, while his theatrical practices as a director and theorist also continued to influence practitioners today.
Frankly, many of those who have attempted to read and understand the theory will have tried hard but eventually given up in a state not too far from bafflement, partly because many of the ideas are counterintuitive but also the terminology can be off-putting, even after it has been translated into English.
Where David Zoob , the Head of Acting at Rose Bruford College, makes his mark is in demystifying the terminology and the practice, turning the unintelligible into the practical and allowing readers to gain a really good and deep understanding of what Brecht was trying to achieve and how his ideas can be applied to theatrical performances today.
From the start, this handbook published by Nick Hern Books at £12.99 is eminently readable, eschewing the kind of technobabble that is favoured by so many theatre theorists today. The volume is also enjoyable, since the author uses a number of different methods to draw in and hold his audience. For example, where there is a particularly knotty concept to get across, he likes to invent a conversation between a director and an actor, in which they can interrogate each other and provide answers that might not otherwise have been apparent.
Beyond that, most of the best elements of this book deal with practice and how it can apply to an assortment of plays including examples from writers such as Shakespeare, Chekhov, Pinter and, of course, Brecht himself.
In addition, there are numerous exercises that will help budding directors and actors to know themselves and their trade, discovering how these elements can fit into the framework created by Brecht.
The topics covered are divided into chapters covering such significant matters as Contradiction, Gestus and, pleasingly if a little unexpectedly, Fun.
Along the way, readers will learn about such vital skills as remaining outside the character, using social commentary and political analysis to present plays in a fresh, often very meaningful manner.
Although the primary focus is on the application of Brecht's theories to a wide variety of theatre productions today, such is the breadth of David Zoob's knowledge that anyone wishing to gain a greater understanding of acting and/or directing would do well to pick up a copy since they are just about guaranteed to learn something that will help them to work more effectively in future.
Reviewer: Philip Fisher