Cagney
Book by Peter Colley, music and lyrics by Robert Creighton and Christopher McGovern
The York Theatre Company
Westside Theatre, New York
–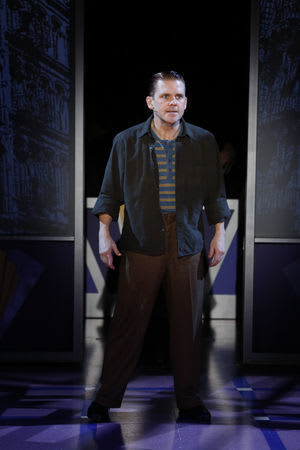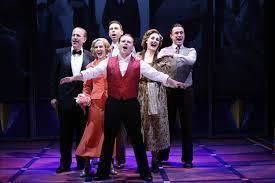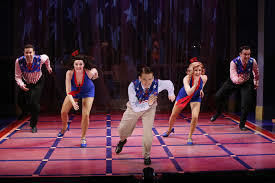 Cagney has been built around the enviable skills of co-writer and star Robert Creighton, who just happens to look a little like the eponymous central figure.
The musical autobiography of a Hollywood legend starts chronologically in 1919 and covers the ensuing 60 years.
During that time, the red-blooded and –haired Irish labourer with strong feelings about justice becomes a movie star and more, revered for performances in such films as Public Enemy and White Heat.
After fighting his way out of a manual job on a matter of principle, Jimmy Cagney receives support from his tough, loving mother and tries his luck as a vaudeville dancer, meeting tuneful Ellen Zolezzi's "Willie" Vernon at the audition and marrying her not too long after. The couple do well musically too, peaking early in the duet "Falling in Love".
After tough times on the road, Cagney gets a lucky break when Broadway needs a ginger nut and another after hard-nosed Hollywood mogul Jack Warner, played by Bruce Sabath, decides that he needs a replacement for John Barrymore.
Initial impressions were not good, since the Irishman was short and craggy rather than matinée idol handsome. However, a life in supporting roles was left far behind when his acting abilities and imagination became too much to ignore.
Thereafter, Warner Brothers and Cagney could do no wrong in a long stream of blockbusting gangster movies that became the rage.
However, rather than milk the success, the actor had artistic ambitions that remained unfulfilled so he started his own production company with brother Bill.
That was an unmitigated commercial disaster. In addition, Cagney's generosity especially towards the downtrodden led to political issues as he was forced to appear before an early committee attempting to eradicate communism.
By the end of all of this, fame and fortune were both little more than memories, forcing a reluctant return to the Warner empire and further gangster success.
The story is told in a rather jocular fashion but gets across most of the main facts in just under 2½ hours. There is far more to enjoy here than a mere bioplay, as Creighton and co. sing and dance a storm, presenting some of the best tap routines around, thanks to choreographer Joshua Bergasse and the versatile cast of only six.
On the musical front, there is a combination of original songs, such as "There's Nothing I Won't Do for You" and some of Cagney's finest such as "Yankee Doodle Dandy" and "Grand Old Flag".
Under the direction of Bill Castellino for The York Theatre Company, Robert Creighton delivers a superb performance in an enjoyable production, imitating his hero in a number of movies and life, as well as singing and dancing tirelessly during an evening that should appeal both to fans of the movies and musical theatre.
Reviewer: Philip Fisher