Carny-Ville
The Invisible Circus
The Island, Old Bridewell Police & Fire Station, Broadmead, Bristol
(2007)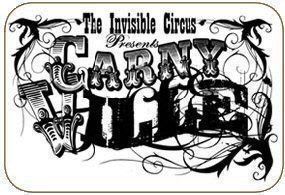 There comes a moment, before we enter the Carny-Ville, a site-specific piece of circus theatre hosted by Bristol's The Invisible Circus in the Old Bridewell Police and Fire Station, where everything seems very tame. We are ushered into a white-painted bar, with a live xylophonist tinkering out lounge jazz, and we mill amongst old-fashioned circus posters like punters at the opening of a gallery. It's the calm before the storm, and when the doors to the old fire-truck yard finally open, the storm erupts with full force.
The Invisible Circus are known in these parts for their inventive use of space and staging. The performance branch of Artspace Lifespace, (a collective who specialise in reclaiming derelict venues for arts purposes), they have transformed a disused Cathedral and an old Audi Garage into theatrical spaces in recent years. Now they have taken over an old police and fire station, complete with Edwardian cells and courtrooms, for a project named The Island, to be managed in collaboration with the site owners, Urban Splash.
On entering the yard, it's difficult to know where to look. Sideshow stalls in brash colours stretch in both directions inviting you to play ping-pong with the devil or visit the Hospital del Infierno, a life-sized macabre mock-up of the board game Operation. In one corner you can whip yourself into a frenzy with either barn dance or polka. Stilt walkers tumble drunkenly or crack Victorian pistols to the sky. Colour, scent and sound are everywhere, paraffin mixed with burnt popcorn, the discordant tinkling of a piano on wheels blended with the garish trumpeting of a brass band.
Meanwhile, on the main stage we are entertained by a melée of Bristol's finest cabaret acts, most memorably the wild-eyed Duke of Nostalgia, a dab-hand with a ukelele, and the Suitcase Circus, a fantastic puppetry act who transform a potato sack into a flying ninja with wit and grace.
In gleeful irony of the show's location, fire makes a regular appearance, being at various points tossed around, puffed into the air by Victorian style lampposts, swirled and swallowed.
In a four hour outdoor show which later continues indoors into the night, it's hard to summarise the highlights. Suffice to say that it's the attention to detail in every inch of the space that testifies to the passion and imagination of all involved. Upstairs in a dark, narrow bar black and white movie moments are projected onto hanging white laundry, while crocodiles made from rubber tyres act as benches for a mock-up zoo.
Sensational value for money at £5.50 advance door price, and with the knowledge that every penny of profit is being channelled back into creating more events along these lines, this must be about as much fun as can possibly be had before and after the witching hour in an old police station.
Ends on 28th September
Reviewer: Lucy Ribchester