Catastrophists
Jack Stanley
White Bear Theatre
–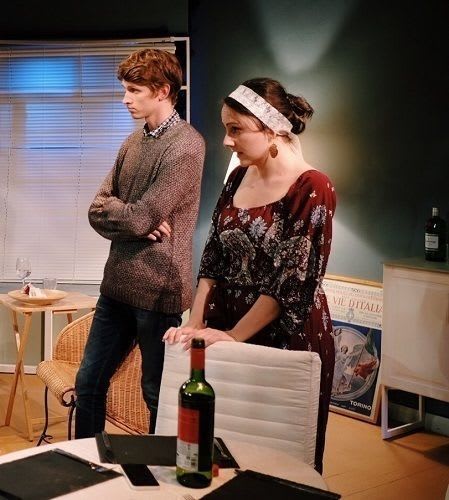 With Donald Trump pronouncing that maybe his threat of 'fire and fury' wasn't tough enough and that North Korea should be warned that 'military solutions are now fully in place, locked and loaded', Jack Stanley's new play, Catastrophists, feels discomfortingly timely.
If it's not a North Korean-led nuclear apocalypse that does for Planet Earth, then either the zombies will fulfil the doomsday-sayers' scenarios, or global-warming will see us all—in the words of David Wallace-Wells in this month's New York Magazine—"cooked from the inside out". Whether it's earth-bound asteroids or drug-resistant global pandemics that make the headlines, we seem to be destined for the day of reckoning.
So, welcome to the Cotswold's Commune for Survival. Fiction loves a watery dystopia—from The Year Of The Flood by Margaret Atwood to Maggie Gee's The Flood—but Stanley gives us the dry gentility of the Cotswolds and whisks us off to land-locked Wiltshire where thirty-somethings Harry and Raf have, on the back of a windfall from Harry's recently deceased grandfather, bought themselves a weekend retreat from their successful suburban lives in leafy Barnes.
From Lord of the Flies, via The Road, to Al Gore's Inconvenient Sequel and Niccolò Ammaniti's new novel Anna (in which chaos ensues after a virus kills off everyone over the age of 14 leaving the orphaned under-14s to fend for themselves), art repeatedly asks us to reflect on how we would behave if the social order collapsed, alienation and conflict ensued, and we had to fight to survive.
Would we, as Harry asks his wife Raf, shrug our shoulders in resigned contentment that we had spent our living days as we wished, with the ones we loved? Or, would we join the calculating opportunists eager to exploit the impending chaos to impose their tyrannous will on those too weak or anxious to resist?
Middle-aged couple Claudia and Peter are wisely making preparations for the inevitable nuclear winter. Settled cosily into a yurt in a Wiltshire field, they have turned their backs on self-serving capitalism and embraced planet-conserving clean-living. But, beneath the Paltrow-esque diet regimes—refined sugars are no-go—cabbage-patch self-sufficiency and carbon-neutral moral high-ground, there are dirtier and darker psychologies at play.
Addictions loom large, from Claudia's 'former' alcoholism to Peter's Wispa-stuffing frenzies, but they must be suppressed, triggering a desire to control that infects what should be an ice-breaking soirée with their new neighbours, Raf and Harry, who have invited the older couple round to their Wiltshire holiday home by way of apology for Harry's unwitting 'watering' of Peter's field when nature called during a midnight foray.
As we walk down the corridor to the theatre space, we enter the kitchen-dining room—straight out of a Farrow & Ball catalogue. For many of the audience it will be familiar territory, which is surely what director Cameron Cook intends.
We're in middle-class dinner-party land and, like Harry and Raf, we expect the small-talk to revolve around red wine and reminiscences. All initially seems well as their yurt-dwelling neighbours reflect on their previous careers and social successes, explaining how the recession of 2008 led to a profound re-evaluation of their values. But the evening takes a rockier turn when it becomes clear that their guests are running an apocalyptic survivalist cult from the field next door.
Middle-class manners are no defence against the fanatical, and both Harry and Raf are knocked off their perches of complacency as the evening unfolds. Alexander Stutt's gentle, passive Harry begins to reflect on political issues that before held no thrall; more dangerously, Elizabeth Donnelly's wine-slugging, gag-hogging Raf finds herself wondering if the life she has is really the one she wants—could she escape, find a better way, take her future into her own hands?
There are role-reversals and revelations as Harry decides to take things into his own hands. A quick nip round to the local store to buy dessert turns into a detective investigation at the local pub and he returns with revelations about his new neighbours, just as his wife looks likely to embrace catastrophism with open arms.
A goat-on-the-loose—freed from its pen by Harry—shakes Raf from her beguilement and unleashes a self-defensive aggression which sees Edmund Dehn's sinister Peter receive a nerve-damaging blow to the jaw as Patsy Blower's nerve-jangling Claudia makes desperate appeals by mobile phone for 'an operator'.
It seems that the comedy of manners, in which class, consumerism, cults and civilisation do polite battle, has slipped into farce, until the final moments of the play produce a climactic twist which sees Ayckbourn meet Armageddon.
Perhaps Catastrophists tries to pack too much into its 90 minutes and some of the twists and turns are somewhat contrived and convoluted. But Stanley does raise important questions about the way character and environment interplay and exposes the fragility of contemporary society. His message seems clear: money, inherited or otherwise, won't save us.
Reviewer: Claire Seymour