Cloud Dance Sunday

Cloud Dance Festival & Giant Olive
Lion and Unicorn Theatre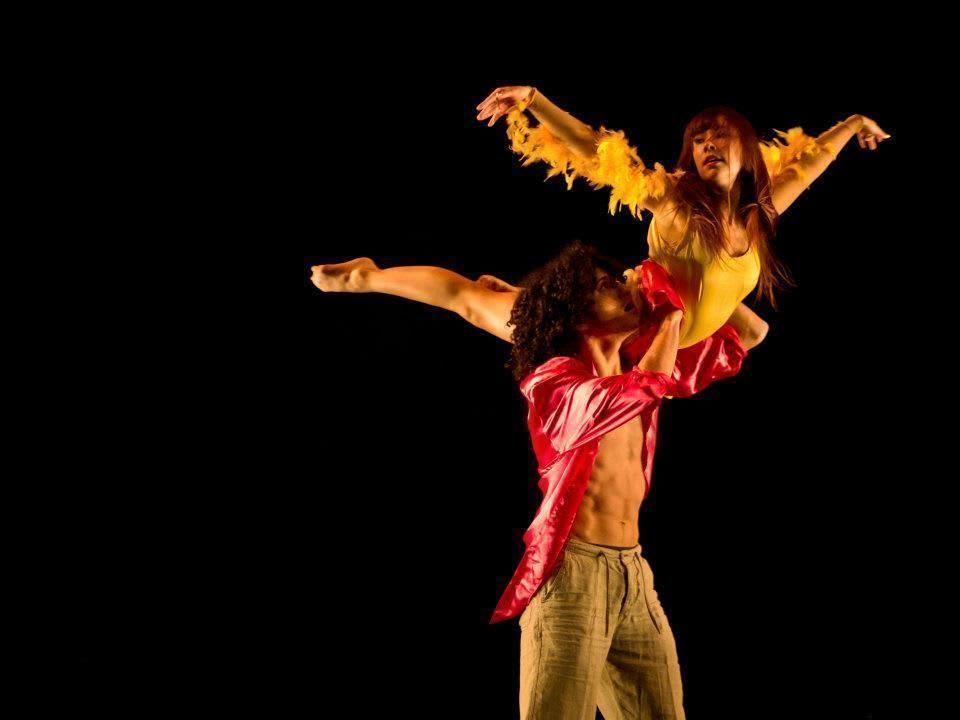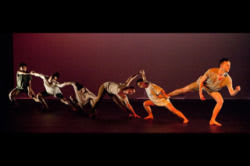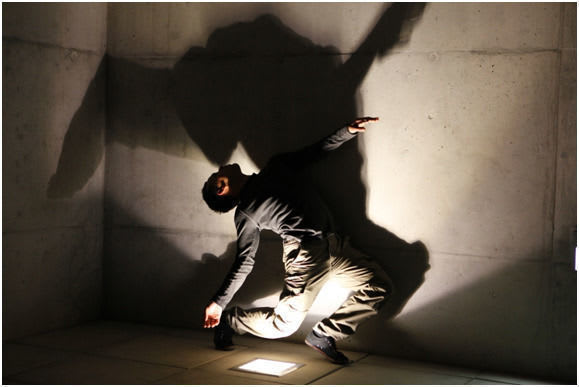 Cloud Dance Festival and Giant Olive have joined forces to present regular performances of contemporary dance one Sunday night each month at Giant Olive's Kentish Town theatre above a pleasant pub.
The bill this Sunday offered four very different pieces beginning with B-Hybrid Dance in Brian Gillespie's Foundations, a lively, spiky work that seems expressive of releasing tensions through group support. Danced by Gillespie himself with Jumar Aben, Jade Hinksman, Eloise Sheldon and Alex Buchanan, it made a refreshing opener, carefully crafted as a group work yet with a sense of spontaneity.
Foundations was delightfully offset by the solos from Julia Pond that followed. Her work is firmly based on the principles of Isadora Duncan's technique and she began with some fluid examples from her Duncan repertoire danced to Schubert and Chopin before embarking on her own work Take/Give.
She has previously performed this choreography to baroque music but here, somewhat experimentally, she danced it to a Leonard Cohen song—and it worked beautifully. It is a dance in which she stretches a swathe of silk along the ground, swirls it around her feet and drapes it over herself. It is a very personal interpretation of the Duncan style spoiled only by a moment when she covers her head for just too long denying the audience contact with the dancer.
After the interval, Nina von der Werth's Tori and Francesco (named after its performers, Francesco Ferrari and Tori Guy) is a spirited tongue-in-cheek duet for a bloke and his bird, a yellow feathered female scattering plumage around the stage, with some lithesome lifts and a presentation of a feather as a jokey reference to The Firebird. It is an attractive showcase for these young dancers and they deliver it with panache.
The final work, choreographed and performed by Johnny Autin, was in dark contrast to von der Werth's exuberance. Taksim Square is a piece, which he considers still a work in progress, inspired by Turkish protests against the government of Recep Tayyip Erdoğan, especially the violent clashes with police in Ankara and Istanbul.
Dance is not the easiest medium in which to make a political statement—it can too easily come out propagandist—but Autin imbues this work with determination, pain and passion. It is packed with feeling but there is much more here than the physicality of rebellion and repression. Whether projecting himself across the stage, a rolling body on the ground or displaying the spotlit muscle movement of a stationary back, Autin captures something inexplicable in this exciting and thought-provoking performance.
If future programmes can be as stimulating as this, the Lion and Unicorn's series of contemporary dance performances will earn itself a regular place in the dance diary of anyone who likes seeing new work and dance up close.
The next Cloud Dance Sundays will be on 4 August and 8 September 2013.
Reviewer: Howard Loxton