Cockpit
Bridget Boland
Lyceum Theatre Company
Lyceum Theatre, Edinburgh
–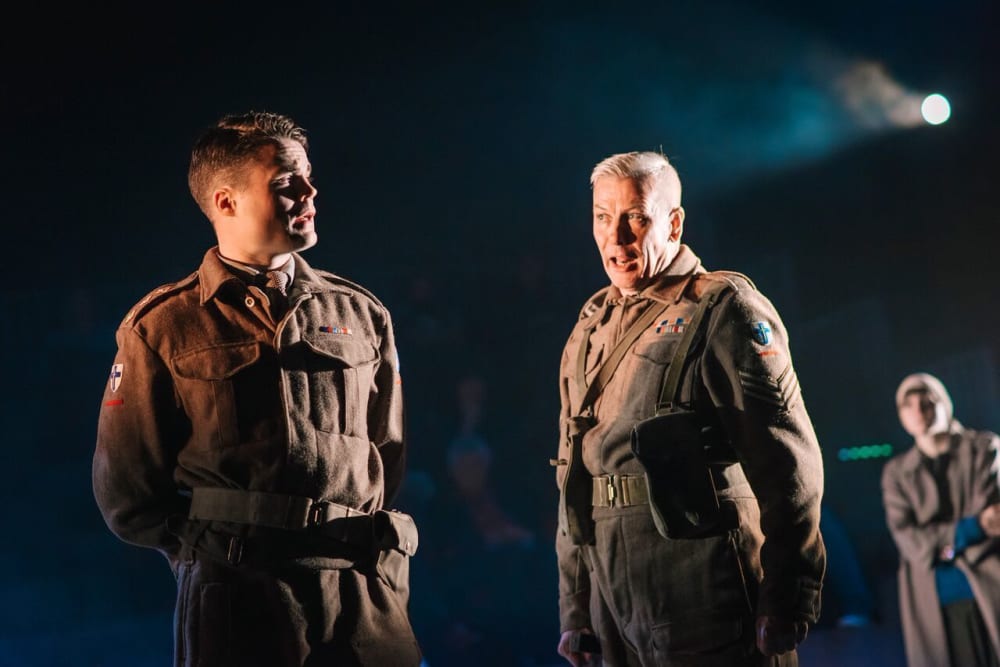 The Lyceum has been taken over: from the minute you enter the foyer you step into Boland's 1948 play set in a German theatre immediately after the Second World War.
There are crude banners with slogans "No Fighting", a huge pile of suitcases and various worn out people wandering around. This transformation continues on into the auditorium, with ladders up to the grand circle and belongings abandoned in the stalls.
The theatre has been requisitioned by the British Army represented by Captain Ridley (Peter Hannah) and Sergeant Barnes (Deka Walmsley) to act as a sorting area for displaced people.
Their task is to sort the displaced people into those who need to head to the East and those who need to head the West of Europe, but the simplicity of their task is deceptive.
From the outset, Ridley and Barnes are confronted with many different warring factions often from the same country: Polish people stealing from other Polish, French resistance denouncing French sympathisers.
Boland's script captures the problems facing Europe after the war in a short but still quite moving way. The characters, despite being symbols, are imbued with plenty of vitality by the large cast.
Song is an important part of the production, opening the play with the cast forming a chorus with an Eastern European sound and later with an opera singer (Sandra Kassman) lifting everyone's spririts.
In this way, it looks like the play is highlighting the redemptive power of theatre, but it isn't really developed.
Although the play is a great experience and there are many powerful performances—Marie (Kaisa Hammarlund) as the passionate French resistance fighter, the Professor (Alexandra Mathie) the caring doctor—it seems to lose its way after the climax of the end of the first act.
There are also more humorous turns from Deka Walmsley as the gruff sergeant from Newcastle and Dylan Read as Bauer, the rodent-like theatre stage manager.
There isn't a great deal of character development, partly as there are so many characters.
A good example of the vagueness of the play is Jiri (Aly Macrae), a great character silently building his cart, but there is no conclusion to his story.
Though it doesn't feel totally satisfying, the play is a really extraordinary piece of history; to have something written straight after the war still resonate with Europe today sends a shiver down the spine.
Nowhere does this happen more than when the displaced people turn round and start to question the ability of Britain in sorting out problems, reminding us of the long-running difficulties in Britain's treatment of the rest of Europe.
Reviewer: Seth Ewin