A Cold Coming
Chaz Brenchley
KG Productions
Customs House, South Shields, and touring
(2007)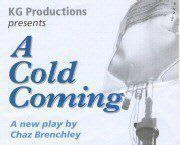 A Cold Coming is a promising debut play by North East writer Chaz Brenchley.
Staged in the perfect, intimate surroundings of The Customs House studio, this short but moving look at coming to terms with the deterioration of a loved one could not fail to move its modest but appreciative audience.
The play centres around Quin, a man who has been living with HIV for over a decade. His character remains motionless and bed-ridden throughout the production while we watch his carers rally round him and deal with the emotional strain of his condition. It is soon apparent that most of these people are all friends or former students of Quin, but strangely it is long-term boyfriend Michael, who has just returned from months away working at a University in Kyoto, who comes across as an intruder into this support network. His arrival is received with a mixed reaction and it is often the duologues between Michael (played by the always convincing Sean Kenney) and these other individuals, notably Stuart (played by Bill E Meeks) and the enigmatic Zoot (played by Wayne Miller), that create the most tense and powerful moments of the play.
The tension is broken occasionally by some wonderfully dry moments of humour, although I felt the play was at times in danger of being overloaded with literary references.
This one act play was just long enough to successfully flesh out the relationships between the group of friends and build up to an affecting end. Its unforced direction and excellent cast makes A Cold Coming a raw and emotional piece of theatre, which deserves to be seen by many more audiences.
At the Customs House until 8th November, then touring to the Royalty Theatre, Sunderland (14th November), The Store, Dipton (15th November) and Arc, Stockton (16th and 17th November)
Reviewer: Emily Taylor