The Comedy of Errors
ByWilliam Shakespeare
Shakespeare's Globe On Tour
Shakespeare's Globe
(2009)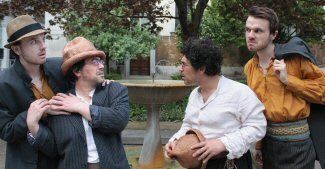 Oh joy, oh bliss. An evening at London's Globe to see a Shakespeare comedy at its best. The Comedy of Errors explodes onto the Globe stage with all the irreverent humour of its Plautine original, The Menaechmi, with its twins separated at birth, their appearance in the same town at the same time, and the outrageous problems which this happenstance allows. Shakespeare might have complicated Plautus's original comic tale, adding his additional twin characters, but the essence of the Romano-Greek farce remains.
In the hands of this touring company of actors, embarking on a national and international tour, Shakespeare's comedy is brought into glorious Technicolor life. Actors career across the stage, swapping and doubling their roles with heady speed. Every moment is filled with a physical or aural comic gem. A gesture, a look, a grunt of disbelief, all travel effortlessly to an audience eager to catch every nuance of the humour.
Rebecca Gatward has done a remarkable job directing her eight-strong group of actors. Traditionally, the twin Antipholuses (should that be Antipholi?) are played by two actors, and their low-life-servant Dromios (aha, so maybe Dromii?) by two others. In this production, two actors play the four characters, no mean feat when several times throughout the play they confront each other onstage with outrageous consequence. The doubling of these principal roles only adds to the overall comic effect, without once detracting from the clarity and force of the narrative.
There is, however, one absolute, no-holds-barred star. Miltos Yerolemou commands the stage as the slapstick-suffering Dromio, whether as servant to Antipholus of Ephesus, or as his twin-brother-servant to Antipholus of Syracuse. A diminutive, stocky, child-like innocent, Yerolemou's Dromio-creation careers into and out of situations, receiving the obligatory swipes across the head and shoulders, as more and more problems are heaped his unfortunate way.
Yerolemou changes brother simply be donning a new hat and blue-coloured spectacles. Both Dromios are unique. Both suffer unbearably. Both charm the audience who en masse long for the actor's return to the stage. Pure comedy at its best, and a fitting clown in the tradition of William Kempe, Richard Tarlton and Robert Armin. I foretell a great future ahead for this fireball of an actor.
The Dromios run errand after errand for their masters (or those they think their masters). Ronan Raftery plays both Antipholus brothers, twins separated by a quirk of fate and now unknowingly united. Raftery's lyrical Irish accent is occasionally drowned by some invasive background music, but his twin characters are wonderfully defined, one brother a rather gauche bespectacled weed, the other a macho man-about-town, bristling with pusillanimous bravado.
The young brothers have a father, Egeon, played with warmth and humble charm by Cornelius Booth. Booth's transformation into the Whirling Dervish exorcist, Doctor Pinch, yet again brings laughter and applause from his appreciative audience. Shaking his necklace of shells menacingly at an irate brother, not even Doctor Pinch is immune, though, from slapping attack.
Sarah Ridgeway as Antipholus of Ephesus's wife Adriana, and Dana Gartland as her long-suffering sister Luciana, provide the love and lust-interest to the plot. Mistakes abound but all comes well in the end. A sleight of simple theatrical magic allows all the partners onstage for the final scene. All applaud as brother addresses brother, departing impossibly arm-in-arm to start their new lives.
A simple set, reminiscent of a travelling-scaffold backcloth, with slits and curtains for heads to peep through and characters to escape behind, adds to the theatrical simplicity and clarity of this delightful production. The action is brought to the forestage, the Globe's massive presence disregarded, and the play romps along at a swift and racy speed. Glorious fun for every age and a wonderful vehicle to spread the Globe message throughout this country and, excitingly, into Europe. Come on, just one more slap with the slapstick, just one more box around the ears. It's all in such deliciously raucous good taste.
The Tour
26–29 May Shakespeare's Globe, London*
30–31 May Trafalgar Park, Salisbury*
2–7 June Theatre Royal, Bury St Edmunds
10–16 June Akershus Fortress, Oslo, Norway
19–21 June Neuss, Germany
23–28 June Heaton Park, Manchester*
29 & 30 June Crichton Campus, Dumfries*
3–5 July Pavilion Gardens, Buxton
7 & 8 July Ripley Castle, Harrogate*
9–12 July Georgian Theatre, Richmond, Yorkshire
14–19 July St Augustine's Abbey, Canterbury*
22–24 July Argotti Garden, Floriana, Malta
28 July–9 Aug Bodleian Library, Oxford*
11 Aug Three Choirs Festival, Hereford
12 & 13 Aug Lydiard House, Swindon*
14–16 Aug South Hill Park, Bracknell*
18–23 Aug Emmanuel College, Cambridge

*Tickets available through Globe Online Box Office.
Reviewer: Kevin Quarmby