Coyote on a Fence
Bruce Graham
A Matthew Mitchell and Manchester Royal Exchange Production
Duchess Theatre
(2004)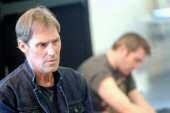 Death Row is currently a popular place with theatre producers. In New York, The Exonerated, a fantastic piece of drama that is coming to England, is still going strong. At the same time, the Tricycle has just revived Brendan Behan's The Quare Fellow. In addition, Iron, which has played in Edinburgh, London and on Broadway, looked at a "lifer".
Coyote on a Fence, in Sarah Esdaile's low-budget studio production, is far closer to Stephen Adly Guirgis' Jesus Hopped the 'A' Train, although with a much more languid tempo.
It focuses on two men accused of murder in the Deep South. The first, John, is an intellectual, played by Ben Cross who edits The Death Row Advocate, specialising in hagiographic obituaries. He could easily be mistaken for a lawyer or schoolteacher in other company.
After losing his previous cell partner to a lethal injection, he inherits Bob. This man who faces death for cheerfully killing 37, including 14 children, is his antithesis. Alex Ferns plays this heavily tattooed, Aryan racist who was raped and abused as a child and has a mental age that is probably pre-teen.
While John is interviewed by the BBC and the New York Times, Bob struggles to read, write and think and refuses to defend his case as he knows that Jesus is awaiting him in Heaven.
The plot gradually allows the two to become close, until a surprising climax in which Bob suddenly attains a degree of wisdom and insight that helps John to find peace and accept his own weaknesses. This is rather contrived but makes for good drama.
It certainly leads to a great deal of pathos as Bruce Graham ensures that the audience sheds a tear or two as each man reaches his inevitable fate.
This is a genre that will always succeed and despite Graham's manipulation of the public's sentiments, it explores self-realisation and the politics of the death penalty.
The lead actors are both utterly convincing and Eric Loren as a Jewish journalist and Jo Martin as the star-struck tough but softhearted warder give admirable support.
Coyote on a Fence may not get too far below surface level and can be overly sentimental with a playwright too keen to make political points. In commercial terms, that may not matter and it is the kind of play that might just be a big hit.
"Coyote on a Fence" is booking until 17th June
This review originally appeared on Theatreworld in a slightly different version
Reviewer: Philip Fisher